The Villains have been defeated and captured by the heroes, and Kafar's luck just got worse! Having no choice, he desides there is one more attempt he can do: Take the Fate Master to the AUU Boundary Generator in the Boundary Cluster, which is the AUU afterlife, and free the AUU demons, including other malicious forces including the Teadr 0 demon-like beings called the Ehaexons, to destroy both the Alternate and Original UUniverses, the invasion under the leadership of the powerful and deadly commander-in-chief named Chilibe. Xerxes finally desided that enough is enough, and battles Kafar in an ultamate duel in the Boundary Generator after he dispatches of their Mourag guardians and leaders. While the Fate Master has already started to corrupt the Boundary Generator, The Lodgers, Heroes Act, and Qui go forth to stop Kafar and the Fate Master for good, all while they not only meet famous warriors that have been long dead and residing in the Boundary Cluster fighting for the safety of both purgatories like (List below), but protecting Xemantha and guard the captured villains.
Transcript
Coming soon...
Material
Dead Cluster Warriors
Songs/Music/Videos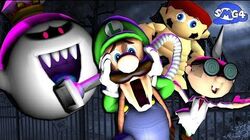 Community content is available under
CC-BY-SA
unless otherwise noted.