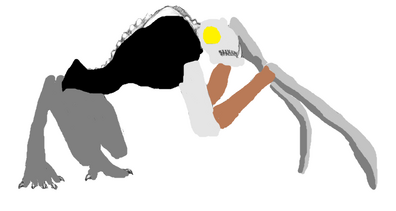 The Sleep Reapers are the Outer God Guardians of 
The Hybernation Realm
, the only outer gods able to live in the Hybernation Realm without succombing to a deep-sleep unless they defect from their purpose. These mantis-eqsed beastly bony creatures exist to guard the hybernating Outer Gods that have been sent here as punishment, further ensuring their absolute stay. In an event of an escape, the Sleep Reapers often tend to send only a small pack to retrive the escaped being. Though not the biggest Outer God, roughly just taller then a human, Sleep Reapers, even at the face of 
Erasers
, 
Wasteland Guardians
, or even a defective 
Xexaxez
 or any spefific creation of theirs, are fearless, cause along aside being surprisingly agile and atletic for their skrawny appearence and an immunity of being mutanted by Erasers, absorbed into the Wasteland Guardian's paper skin, or just eaten into quantom energy by an Xexaxez, among other protections from other Outer God abilities but the Amoral One creators (Unless facing an exsiled defect), thier Sythe Hands enable them weaken and tire the would-be escaper in being embued with the same power of the Hybernation Realms that puts them to sleep to begin with, weakening the captured Outer Being enough so it can be dragged back to the Hybernation Realm, as even for their size, they're basicly like outer god ants that can be able to infinidently lift even the biggest creature like it was made of paper machet and effertlessly carry back into the Hybernation Realm. The other Outer God creations, even all of the Xzars, wisely fearfully respect the Sleep Reapers. Even the Amoral Ones act very cautiously respectful to a Sleep Reaper for how much these creatures are accomplished counter-acters against rogue defects. Sleep Reapers are sometimes assigned to go after Outer Gods not meant to be or are defiling a universe, like that of 
Mingle Master
 and 
Erroris
, or are even used as a very last resort against a 
Plainspawn
 that is nearly there to takeover a dimention, of which both these creatures have a fierce rivalry simular to Xenomorths and Predators as Plainspawn are often the only real challnage Sleep Reapers have due to their infectious nature, as sometimes a Plainspawn manages to infect a Sleep Reaper badly enough that it loses it's immunity to the Hybernation Realm is is subugated to hybernation. Dispite their intense appearence, Sleep Reapers are honor-bound Outer Gods, as they take great care to make sure a Rogue is kept from hurting any mortal and inrealm god, even being able to understand cuteness in infants and reckitnese with a hostage situation has occured. Sleep Reapers are often animalistic in nature, they have the curiousity of cats, the attentive learning ability of dogs, ferusiousity of a predatory animal in combat, and the socialness of animals that live in groups. Cause of it, Sleep Reapers are neither benvolent or malevolent creatures, as rather the product of animal insticts, but have the smartness to reckitnese their purpose and understand morality all the same.
Community content is available under
CC-BY-SA
unless otherwise noted.