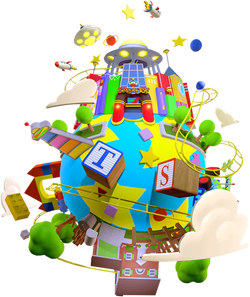 Toy Box
is the homeworld of Woody, Buzz, Jessie, Bullseye, Mr. and Mrs. Potato Head, Slinky, Rex, Hamm, Barbie and Ken, Bo Peep, Andy, Molly, Bonnie, Sid, Lotso, and Stinky Pete, and is based on the Pixar film series
Toy Story
.
PTE Redux Conditions: The Punch Time Exploders will visit this world on multiple occasions.
Role in the series
The Shell Lodge Squad accessed this world accidentally via a portal that takes the form of a black hole, initially called a 'black hole portal' eventually dubbed Singulars upon the discovery of their origins and mechanics, in the beginning of Spyro and Friends in Toy Story, and have hardly visited ever since, seeing a world where toys are alive amongst actual people's absence as too surreal.
Community content is available under
CC-BY-SA
unless otherwise noted.