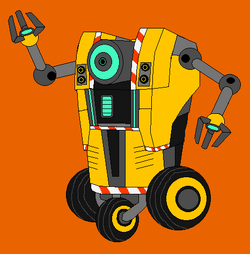 TR4P-1100
, nicknamed
Trapp
, is an Alternate UUniversal robot from Planet Qandora. He is only one in an all-purpose line of TR4P models manufactured by the MagRyve Corporation that serve as stewards of many worlds including Qandora, with jobs consisting of maintenance, supervising, construction, cleaning, and manufacturing. However, when they were first built, their inventor was hoping to fix the personality flaws in each prototype of the Trapp units, though he died before he could make this a reality. Trapp is a very comical, bumbling, and cynical robot that does odd jobs, and even assists those in need when necessary. He is similar in personality to Claptrap from
Borderlands
, having a similar voice, coloration, and design. Though this model is considered an outdated model since the Cypherion Corporation, a company specializing in construction gear, tactical gear, weapons, robotics, all-purpose technology, and resource mining, created the
Bilge
Units, which became far more prevalent and was considered the cousins of the Trapp Units, thus making them widely unpopular to which it is considered a slur to both models, and Bilge Units consider being compared to Trapp units or turned into them the ultimate torture and insult. Regardless, Trapp units are reliable in many ways and can do things that Bilge Units can and can learn as much as they can, which is how they grow more popular with time.
History
Coming soon...
Quotes
"I swear, these bandits always bother us and sell us for scrap! Being target practice is DEFINITELY not in our programming! I'm at least lucky I don't suffer as much as my counterpart in the Beofynzeny System!"
"Look at me, everybody, I'm dancing! I'm dancing!"
(Bandit: "Get that midget Vend-Bot!") "HEY! One of my counterparts was a Vend-Bot!"
"(Dodging lasers) HEY!! I'M A HELPFUL TR4P UNIT, NOT A SHOOTING RANGE TARGET, JACKASSES!!"
Community content is available under
CC-BY-SA
unless otherwise noted.