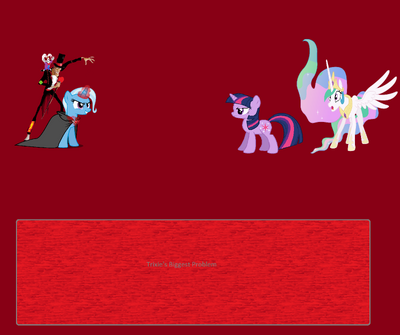 Trixie's Biggest Problem is the 1st Season Finale of the SpongeBob and Friends Adventures Chronicles series. Trixie has discovered that the Alicorn Amulet has been placed in the Forbidden Basement, and royal promises never to go after it. SpongeBob is able to arrange getting Trixie unbanished from Ponyville for the sake of possible future jobs, and no hard feelings will truely be made if Trixie should be near Twilight and her friends. Trixie went out to think alone in the city in solitude, only to end up running into religious bypasser Professor Latifier, Facilier's half-brother from Las Vegas who is extremely confused as Facilier himself. Latifier tricks Trixie into breaking her royal promise, and go after the amulet again. Now, Latifier plans to use Trixie to take over Equestria, and become much better than Facilier. But when Trixie manages to realize her mistake, Latifier controls Trixie into keeping Twilight's friends and the Apple Family hostage. Now, The Lodge and Twilight must work together to save Trixie and Equestria from a fate worst than...Latifier.
Fan-made Transcript
Chapter 1: A Familiar Trouble Attracter
dragon temple.
Trixie was trying to practice with a very difficult form of magic.
Gilda: "Yo Trix, did ya hear the news!"
Trixie lost it!
Trixie: "Confound it Griffin, what could be so immpourent that you had to interupt my consintraction?!"
Gilda: Well, I just want to tell you something that you might wanna know. You remember that Alicorn Amulet you bought in Equestria?
Trixie: You mean the one that made me lose my mind, and got me banished from Equestria?
Gilda: Yes. Right now, Twilight has brought the amulet here to the Temple, and is being safely stored in the Forbidden Basement.
Trixie: Really? Big deal! The Great and Powerful Trixie has had enough with that blasted thing. I am never laying my hooves on that wretched thing AGAIN!
Gilda: That's fine, but I don't think that'll be true for long. The Soothsayer had forwarned us that you are still vulnerable into getting the amulet back, and even the most evil of words will convince you. So I must tell you that if someone should talk to you about it, don't listen to him.
Trixie: Relax, Griffin girl! The Great and Powerful Trixie NEVER breaks an oath for anything. I'm not touching that amulet, and that's that.
Gilda:...You promise?
Trixie: Totally promise!
Gilda: You royal promise?
Trixie: Royal what?
Gilda: Royal promise! It's something I learned as a child. Me and Rainbow Dash do it all the time, and we never, NEVER break it. Because if we do, the RPE comes after you.
Trixie: RPE?
Gilda: 'Royal Promise Enforcer'. They say it's a spirit that gives anyone who breaks a royal promise serious consequences. But nobody really knows it exists because nobody in Equestria has EVER broken a royal promise. So, you royal promise?
Trixie:...Uh...yes. I royal promise.
Gilda: Good. Chow! (Leaves)
Trixie:...That was weird. (Scoffs) It's probably a myth. But a royal promise is a royal promise, so I guess I can't argue with that. (Continues practicing magic)
Gilda' voice: "Oh, i forgot to mention that Spongebob's trying to neosigate Celestia into lifting your kick out from Equestia!"
Trixie lost it again, and an explowtion was heard!
Trixie: "Por Qa?"
Temple main lobby.
Spongebob: "Thanks for helping me write down my speech for making Celestia reconsider the banish on Trixie. One of these days, we have to go there for a serious mission, and should Trixie actselly at least abit more good with magic, we need all the guys we need!"
Twilight: "Alcourse. Though I have issues with Trixie's unbrideled bragging, I do actselly think there is good in her, albiet askewed."
SpongeBob: Also, thanks for bringing us the Alicorn Amulet. I had no idea what happened to it after Trixie's second appearence in your series. I was beginning to think that it fell into the wrong hands.
Twilight: Actually, Celestia kept it after that episode, and just yesterday, she had me bring this to you so you can keep it from causing any trouble.
SpongeBob: Great, but we're concerned about Trixie, because the Soothsayer had told us not too long ago that Trixie was vulnerable to getting the urge to get it back if she should be convinced by an evil we have no idea about.
Twilight: Really? Well, that can't be good.
Gilda: Well, that's not a problem. Trixie already vowed not to touch the amulet again. She made a royal promise.
in the hallway, Trixie is overhearing everything.
Spongebob: "Well, if it's any concilation, Trixie does feel sorry that darn thing made her into the jerk she was."
Twilight: "I know, and I can't stay mad at her for that."
Spongebob: "I must warn you that Trixie might be, elusive rigfht now. being ashamed of oneself can do that to you."
Gilda: "Funny, chouldn't tell when she got alittle annoyed at me for bugging her."
Spongebob: "Well I bet she would now she's aware that Twily's here."
Trixie sneaks away unnoticed.
Gilda: "Well, in that case, I don't blame her. She royally blew it last year and she is really showing a sense of shame."
Spongebob: "Well, give it a few weeks, and she'll be back being the horn tooter we all know and love!"
Gilda: "You mean, tooter of her own horn!"
SpongeBob: Well... Yes, but you know what I mean.
Outside the temple.
Trixie sighed.
Icky and Iago are seen overhead.
Icky: "Yo bule magic horse, what up with you?"
Trixie: "Trixie desires no chitchat! I am going to be alone in the city for awhile."
Icky: "..... Ok, you have fun with your lonezone then."
Iago: "Wonder what was her problem?"
Icky: "Your guess' as good as mine. But I think it's for the best we give her some space."
In the temple.
Icky and Iago rested.
Boss Wolf: "Yo guys, did ya heard, the basement now has a new item that is going to be thrown in it!"
Icky: "Doesn't that basement already filled with junk of unigmaginable power?"
Boss Wolf: "Yeah, but this one's small, and it has to be aspeically watched, because Trixie was involved with that thing once!"
Icky: "Oh yeah, she got around to that, "Getting even with Twilight" thing!"
Iago: "But isn't anyone worried that Trixie's gonna try to get that thing back?"
Boss Wolf: Well, you're right. What the Soothsayer told us seems pretty serious. What if somebody convinces her to get that thing back?
Iago: I don't know. Gilda told me she made a royal promise about it or something.
Boss Wolf: Ooh, that's great. Royal promises are far too sacred to be broken.
Iago: But still, she might. What if this guy the Soothsayer told us about happens to be a religious bypasser?
Boss Wolf: Are you kidding? Religious Bypassers are illegal in all religious worlds that practice royal promises.
Icky: What are religious bypassers?
Boss Wolf: They are illegal sorcerors who use witchcraft and necromancy to easily defy religious beliefs, many of which include Trixie's royal promise. They trick people into breaking their royal promises, and therefore, tricking them into the consequences that follow.
Iago: Defying royal promises? Is that even possible?
Boss Wolf: Yes. That's why the Great Spirits are after religious bypassers.
Icky: Can I ask you something? Has anybody EVER broken a royal promise?
Boss Wolf: No. Incidents like that are EXTREMELY rare, and are prevented by light energy. But religious bypassers, on the other hand, use darkness to interfear in this process, and cause the person to get the wrong idea. So as a result, the person get punished, much to the pleasure of the religious bypasser.
Iago: You mean... Religious bypassers make people break royal promises just for their own pleasure?
Icky: That reminds me of the Bird Fagin.
Boss Wolf: Well, according to Fagin's criminal records, what he did in Hollywood when you guys were with Danny was the start. Fagin was practicing to be a religious bypasser. He tricked animal performers into quitting their lifelong dreams, and laughed in their faces. Compared to that, breaking a royal promise is nothing but an accident.
Icky: "So that means Faggy eyes could be the guy that's gonna make Trixie screw up! that birdy fiend!"
Boss Wolf: Well, Soothsayer didn't say WHO it was, but I think Trixie is in a great deal of trouble. Where is she?
Iago: She said she was heading for the city by herself.
Boss Wolf: Oh, no! We can't allow her to be all by herself. We need to follow her before something happens!
Icky: Should we tell the Lodge?
Boss Wolf: I'LL, tell Lord Shen. No matter what, Trixie must NOT get the wrong idea! If she does, and if she breaks her royal promise, I don't know what will happen to her.
Chapter 2: The Strange Man
The city.
Trixie sat at a loney bus stop.
Trixie: "(Sigh), How could I ever face Twilight again after what that stupid all-powerful amulet did to me? I wish I never bought it from that sells pony!"
Trixie closed her eyes for silent tears.
???: Such a sad, sad face!
Trixie: What the--? Iago? (Sees a Dr. Facilier look alike) Dr. Facilier!
Facilier Lookalike: Oh dear God, why does everybody mistake me for my dumbass half-brother?!? I ain't no Dr. Facilier, pony lady! The name's Professor Latifier, illusionist hailing AAAAALLLLLL the way from Las Vegas, baby!
Trixie:... I'm not an idiot, Facilier, I know it's you.
Latifer: Don't believe me? Look at this! (Shows her poster of himself that says "Professor Latifer, Illusional Expert')
Trixie:... That's fake!
Latifier: "Ok, we do this the hard way! See my shadow! (Latifier moves his arm, shadow follows), My shadow follows what I do!"
Trixie: "I'd be more convinced if that never left your side."
Latifier: "Ok, the lazy way it is. (Shows picture of him and the real Facilier in family reunion photo)"
Trixie:... Okay, now I believe you. But don't think I start trustung you, Latifier. You're obviously working for Dr. Facilier.
Latifier: (Laughs) Nonsense! Me and Facilier hated each other. He used his voodoody magic to temporarily turn me into a whale! I couldn't move for 3 days! I'm just lucky it wore off.
Trixie: Are you serious? (Laughs) He turned you into a WHALE?!?
Latifier: Oh, enough with the silly jibber-jabber, and let's talk about you. Why did you look so sad when I saw you?
Trixie: I don't wanna talk about it.
Latifier: C'MOOOOOOONNNNN!! You can tell me anythin', yo! I ain't like my incompitent half-brother. Just let it out, and maybe I can help you.
Trixie:... Okay, fine... But can you at least keep it a secret? because I'll deny it.
Latifier: Yeppity-doo-dah! But in all honesty, I meant yes.
Trixie:... Okay, I'm a member of the Shell Lodge Squad, and I recently had a bad start in G4 of the My Little Pony series. I was considered a showoff, and got really embarassed after having been a coward. But after joining the Shell Lodge, I later had a second appearance as an antagonist. I bought a cursed Alicorn Amulet that corrupted me, and gave me incredible powers that allowed me to banish my rival, Twilight Sparkle, from Ponyville. But I was thwarted, and banished from Equestria even though Twilight forgiven me for my actions. But now, the Alicorn Amulet is with the Shell Lodgers, and SpongeBob even offered to convince Princess Celestia to lift the banishment. But I overheard that Twilight was the one who brought the amulet, and I don't think I want to face her again. Not after what the amulet had done to me.
Latifier: Well, why didn't you say so?
A voice: "P.U.! IT SMELLS LIKE HARD TIMES AND ALLYWAYS IN HERE?!"
A March Hare look-alike appear from under his hat!
Latifiier: "Jerry! I thought I asked you not to come out!"
Jerry: "Hey, not my fault it stinks in there!"
Latifier: "I can't help that! Ever since Facilier ruined my career with that movie, I've been mistaken as him alot!"
Trixie: "Explains the smell."
Jerry: "Don't even get me started where he's been staying these days-"
Latifier forcefully closes his hat on Jerry!
Latifier: "Now, Trixie, it's no secret, that you too was once on the big time!"
Trixie: "Me?"
Latifier: "Yeah, the traveling, the entertaining of people, and wowing them! But then that Sparkle kid came along and ruined everything for ya! And when you disided to get even, you get kicked out of your homeworld!"
Trixie: "You made it sound harsh in that Iago-like tone!"
Latifier: "And that oh so forgiveness? She was smiling she wasn't gonna see you around that happy-sappy dump anymore! That you won't come back, and be a pest again!"
Trixie: "She.... She... She never forgived me?"
Latifier: "Alcourse not! She never even started actselly liking you! And I bet bringing you back into Equestia is not even gonna happen!"
Trixie: So, what do you suggest I do? Do I ask her if she likes me or not?
Latifier: No way, pony lady! That'll only make it worse. What I suggest is that you find a way to get back at her, and show her who's boss.
Trixie: Wait, you mean... You mean challenge her again?
Latifier: Exact-a-mundo! All you have to do is get that amulet back, and finish what you started.
Trixie: Get the amulet back? Absolutely not, I swore I'd never touch that thing again, and I meant it. I made a royal promise to the Lodge about it.
Latifier: A royal promise? (Scoffs and laughs) Did you hear that, Jerry? (Lets Jerry out) She made a royal promise! (Jerry and Latifier laugh)
Trixie: What's so funny?
Latifier: "Whoever made you do that, played you for a chump! Malmitulated you into doing what THEY wanted! Face it kid, your a patsy to them!"
Trixie: Why should I trust you? The Lodge warned me not to let anyone talk me into getting that amulet back. A royal promise is a royal promise.
Latifier: Kid, there's something you should know about royal promises. They're just an old religious myth that was rejected decades ago. This Royal Promise Enforcing spirit that they talk about... It doesn't exist.
Trixie: And how would you know that?
Latifier: "Hello! I'm more then just a run of the mill las vegas magdition! I did some spirit hunting in the day! I seacrhed the amazon, egypt, that cold place with the snowy bigfoot, I even checked all those places looked at by "Ghost Hunters", and there's NO promise enforcement spirit!"
Trixie: "Are you sure? They, they tend to be invisable!"
Latifier: "I knew that too! But I tried everything to make such spirit appear, and yet, I get jack- squat. In fact, I had a friend who broke a royal promise once, and nothing happened to him."
Trixie:... No!...
Latifier: Yes! Don't you see? It's nothing but a stupid religious tall-tale!
Trixie: You... You're lying!
Latifier: Ya know what they say.... A magic deminstaightions' worth a thoundson words. (Shows fake illusion of the scenario of his 'friend' breaking his royal promise)
Friend: "Fred has a crush on Beatrice!"
Guy: "REALLY?!? (Laughs) He's a loser!"
Fred: "Larry! What're you doing?!? We had a royal promise!"
Larry: "Let THAT be a lesson to you for throwing me out on a football field naked! Our friendship is OVER!" (Leaves)
Fred:... You'll wish you never did that, Larry! The RPE will get you!
10 years later
Fred: (Grown up, and people laugh at him, and Larry is still there laughing at him too) Larry? But... But I thought the RPE punished you!
Larry: It doesn't exist, douche bag! It's a myth! (Laughs, and leaves) 

 

(Illusion ends)
Trixie: "That... Lying hybreed!"
Latifier: "So, about the amulet...."
Trixie: "I'll make them all pay! They used me like a puppet!"
Latifier: "So, what are you gonna do about it?!"
Trixie: "Oh, I know exsactly what to do!"
Trixie ran off from Latifier's sight.
Latifier: "..... Jerry, like I said, we're going back on easy street."
Far enough distence.
Trixie was alone for abit at the park lake.
Trixie: "I hope that human could mind alittle delay... (Sniffles), I have the need, to be heart-broken."
(She sings this song.)
Trixie just cried.
Icky and Iago appeared.
Icky: "Hey, Trix, what up with you?"
Trixie: SILENCE! I know what you're up to! You're trying to let Twilight get away with her twisted lies!
Iago: Trixie, what the hell are you talking about?
Trixie: Don't you dare play dumb with me! Twilight NEVER forgiven me from the first moment she said it, and she doesn't want me back in Equestria!
Iago: Who told you such things?
Trixie: Why, some guy that sounds like you and looks like Facilier. He's his half-brother, Professor Latifier!
Iago: He sounded like me?
Icky: Oh, no! We're too late! Trixie, that is NOT true, and you know it! You were warned that something like this would happen, and you let it happen!
Iago: What about your royal promise?
Trixie: That's RUBBISH! Everybody knows royal promises are just a myth!
Iago: Don't believe anything that guy said! He's trying to get you in trouble with the RPE for his own pleasure!
Trixie: What kind of fool do you think I am, cracker-jack? The RPE does not exist! I'm getting that amulet, and nothing is stopping me! Now, get out of my way! I've got a score to settle!
Icky: "Look Trix, as your buds, we ain't gonna let you screw your life over for something like payback!"
Trixie: "SILENCE WORMS!"
Trixie saps Icky and Iago into bugs!
Icky: "Dudette, not cool! You didn't even turned us into worms! We're bugs at best"
Trixie: "YOUR BELOW ME ALL THE SAME?! GOOD BYE, IMBACILES?! (LAUGHS!)"
Trixie teliported away!
Icky: ".... Iags, let's go as fast as our insectifived bodies can allow us and let's get to the Lougers ASAP!"
the basement.
Two Wolfs are seen carefully placing the amulet in it's enternal resting place.
Wolf: "Ok, and one less dangerious object of power to worry about."
Wolf 2: "Yeah, and only we know where it is."
Wolf: "And the only other one who knows about it has no intention to even talk about the thing! There's very poor odds she'll catch herself down here!"
Trixie: (Teleports to area) Hello, dog-faces! I'll take that amulet! (Levitates amulet onto her neck, and a thunderclap is heard)
Wolf 2: TRIXIE, WHAT'RE YOU DOING?!?
Trixie: SILENCE! (Makes both wolves' mouths disappear) I'm coming for you, Twilight Sparkle! And this time, it is I, The Great and Powerful Trixie, who will have the last laugh! (Cackles as she puts on her dark gray robe as the thunderstorm worsens)
Latifier: (Seeing everything in crystal balll) Yes! YES!! Break your royal promise, you gullible fool! Break it like a woman! (Cackles)
Jerry: (Giggles) This will be the best trick yet.
Latifier: You said it. She has no idea that the RPE exists! Within 24 hours, the RPE will be there to give her the hardest spank in the history of cartoonkind!
Jerry: Uh... Wouldn't that squish her into a million bloody pieces?
Latifier: It's a figure of speech, you idiot! The point is that when this day comes to an end, so will Trixie! (Cackles)
Jerry: "Meep."
Latifier: "But, I do have a plan were we can have a long term partnership. When she does defeat that Sparkle kid, we rule a brave new Equestia togather, then, I'll help her become so powerful, not even RPE could defeat her!"
Jerry: "Won't she already be powerful?"
Latifier: "Yeah, but, her powers are artifictial, and that won't do well against the naterol powers of RPE."
Jerry: "Oh."
Latifier: "But before that happens, let's make sure Twilight won't sucker her way into this like the last time! What do you say, we convive Trixie to do some, stragiticly placed blows to Twily's friend tree?"
Jerry: "Oh, I got ya, you naughty stinker!"
Latifier and jerry started to laugh Jafar and Iago sytile!
Chapter 3: "NOT THIS AGAIN!"
Dragon Temple
SpongeBob: Alright, we're ready to head for Equestria.
Twilight: I sure hope the Princess approves.
Gilda: Me, too.
Patrick: Hey, SpongeBob? Have you seen Trixie? I can't find her anywhere.
SpongeBob: Is she in her room?
Patrick: No.
Gilda: That doesn't sound good. Do you think she's in trouble?
???: You might say that. (Gilda, SpongeBob, Twilight, and Patrick look down to see Icky and Iago as bugs)
SpongeBob: Icky? Iago?
Twilight: Why are you guys bugs?
Icky: Trixie's been tricked into getting the Alicorn Amulet! She's on her way here to get it!
Gilda: WHAT?!?
Patrick: (Laughs) Are those bugs talking?
Gilda: Why would she do that? She made a royal promise.
Iago: That's the thing. She's been tricked into thinking that royal promises are just a myth, and the RPE doesn't exist. Now she thinks that Twilight never forgiven her from the start, and is plotting revenge!
Twilight: WHAT?!? That's a lie!
Gilda: Who told her that?
Icky: Some guy named Professor Latifier, who she says is Facilier's half-brother and sounds like Iago.
Iago: And I thought a lot of people sounded like me.
SpongeBob: What'll we do?
Trixie: (Appears behind them) It's very simple! Twilight goes down!
Gilda: Trixie, please! Whatever lies you heard, it's not true!
Trixie: YOU LIED TO ME, GILDA! Why didn't you tell me royal promises were a myth?
Gilda: They AREN'T! They're as real as The Great Spirits themselves. You've got to get that amulet off!
Trixie: NEVER! I'm finishing what I started right here, right now! (Uses telekinesis to push SpongeBob, Patrick, Gilda, Icky and Iago out of the way)
Twilight: Trixie, you've gone mad! What I told you was true! I DID forgive you from the start! You have to believe me!
Trixie: In your dreams, Twilight! (Thunderclap) I am gonna make you wish you were never born!
Rico appears and uses smoke bomb!
The Lougers vanished.
Trixie: "You can run, coward! but you can't hide!"
Equestia.
Banzai: "Well this is just teriffic! Trixie's gone mad again!"
Ed laughs!
Banzai: "It's not funny, Ed."
Ed laughed out loud!
Banzai: "HEY SHUT UP!"
Banzai pounces on Ed!
Banzai and Ed fight!
Shenzi: "Would you two knock it off?!"
Banzai: "(The duo stopped) He started it!"
Shenzi: "Look at you guys! Now's not the time to be at eachothers throats!"
Skipper: "Shenzi's right! Our objective now is to find a hiding spot until we can get Trixie to get rid of that thing!"
Suddenly, Twilight was pounced by a paniced Rainbow Dash.
Rainbow Dash: "TWILIGHT! THANK GOODNESS YOUR HERE! TRIXIE'S GONE NUTS AGAIN!"
Skipper: "D'oh!"
Twilight: How'd you find out?
Celestia and Luna appeared.
Celestia: I sensed it. What happened to her?
Twilight: She's been tricked into thinking I never forgiven her from the start, and now she's after me again.
Gilda: Even after thinking that royal promises are a myth.
Celestia: She made a royal promise?
Gilda: Yes. She said she wouldn't touch the amulet again, but somebody convinced her.
Celestia: Then this explains it all. Whoever convinced her to do this is a religious bypasser.
Iago: (He and Icky are back to normal) I think we should look up some information about this 'Latifier' guy, and fast.
Icky: That's a good idea.
Twilight: Everyone, TO THE LIBRARY! (Batman-like cut sequence)
Library
Kowalski: (Searching computer for info) Ah, here we are, Professor Latifier. It says he's the half-brother of Dr. Facilier, and is mostly confused to be Facilier sometimes. He's a wanted illusionist and religious bypasser who's royal promise sabotaging record is about... 35.
Gilda: 35?!? Dear Alicorns!
Icky: "Look at this: The guy used to be a big-time magdition in dragon realms las vegas, but because of being mistaken for his half brother too many times, even by his own manitger, he was eventually fired, and the guy became vengeful on proven his own individuallity."
Gilda: "And the guy does this by becoming no better then Facilier? Heh. I guess villainy runs in Facilier's genes."
Spongebob: "I bet it must be horrable to be mistaken for someone else alot!"
Icky: "Doesn't help his brother was a total douchwad to begin with."
Twilight: "But how are we gonna prevent him from ruining Trixie's life?"
Gilda: "Well, didn't you punked Trixie into thinking you had a more powerful magic increseing charm once?"
Twiligfht: Yes, but now, it's VERY unlikely she'll fall for it again.
Celestia: It gets worse. If we don't stop Latifier within 24 hours... Trixie will be punished by the RPE.
Icky: What kind of punishment?
Celestia: They vary. The RPE punishes according to the terms. For example, if someone royal promises that he'll never hurt his sibling, and he does anyway, then the RPE will curse him into recieving all the pain he had brung on his sibling since the beginning whenever it happens again for life. Or if someone royal promises that he won't cuss, but does it anyway, the RPE will curse him into getting hurt whenever he cusses again for life. Or whenever someone royal promises that they won't reveal personal info about his friends, and does, then the RPE will curse him into revealing all of his own personal info to anyone he sees for life.
Po: Well, isn't that a little harsh?
Celestia: Well, the RPE knows that the most harshest punishment is the most efficient one. It may seem too harsh, but that's how it goes. And judging by what Trixie royal promised, then the RPE will do something as extreme as taking away all her magic powers, and make everyone dispise her for life.
Twilight: Then we have to do something.
Icky: "Well, what if we hit Facilier's jerk bro with a truth spell?"
Merlin: That could work, but he might be immune to them since he's a religious bypasser.
Twilight: But it's the only chance we've got for now.
Rainbow Dash: "Well, we kinda don't have alot of opitions, because those two are already causing mondo trouble!"
Ponyville.
Rarity gets zapped, and is in a rediculious outfit!
Rarity: "EEK?! NOT THIS ABOMINABLE CLOTHING AGAIN?!"
Latifier and Jerry laughed out loud!
Latifier: Damn, pony, that skirt looks rediculous!
Jerry: Yeah, she looks more hideous than Joseph Merrick.
The Heroes Charged in!
Rainbow Dash: HOLD IT RIGHT THERE, TRIXIE! Stop this madness now!
Trixie: Or what, Rainbow Trash? (Zaps Rainbow Dash, making her right wing larger, causing her to lose her balance) (Latifier and Jerry laugh again)
Jerry: Now that's what I call a pony on steroids! (Laughs)
Latifier: (Laughs) I-I can't-I can't breathe! I can't breathe!
Applejack: This has gone far enough- (Trixie zaps her, and her head turns into an apple)
Latifier: (Laughs harder) That knocks them dead!
Twilight: "Trixie, that is enough! You and those crooks have done enough?!"
Trixie: Oh, there you are! I thought I forgot about THE NERDY BOOK LOVING ELEPHANT IN THE ROOM?! (Turns Twilight into an elephant)
Twilight: What the-?!? Oh, very funny!
Trixie: I should've known you'd never forgive me!
Twilight: Trixie, Professor Latifier is trying to trick you into destroying your own life!
Trixie: LIAR! (Zaps Twilight, and she turns into a rabbit)
Twilight: HEY!
Trixie: You make more lies then how rabbits reproduce!
Jerry: "That much is true!"
Celestia: Trixie, what Twilight is saying is true! You must get rid of that amulet before it's too late!
Trixie: DON'T TRY TO WEASEL HER OUT OF THIS?! (Turns Celestia into a weasel) (Thunderstorm gets worse)
Twilight:.... Okay, I CROSS THE LINE OF CELESTIA BEING HUMILIATED VIA AN OBVIOUS PUN?! (Turns herself back to normal) Trixie, listen to me! You're being made a fool!
Trixie: I was saving this for Pinkie Pie, BUT YOUR WAY BETTER OFF WITHOUT A MOUTH?! (Makes Twilight's mouth disappear.) This place belongs to Latifier, now, Twilight Sparkle! If I ever see you again, I'll rip out your soul, and turn it into a marble! (Pushes the Lodge, Twilight and the Celestial sisters out of Ponyville, and puts up a shield around the town)
Celestia: (Having been turned back to normal by Luna) That shield can't hold forever, Trixie. (Uses powers to try and get through shield, but fails) By the alicorns! This is a Level 55 Shield. I am unable to get through.
Luna: The Alicorn Amulet has a magic level of up to 60, capable of outwiting Gods such as me and Celestia.
Fidget: What'll we do, now?
Celestia: We'll think of something. But we'd better hurry, because the RPE is closing in quick. (The thunderstorm gets worse and glows in pink energy)
Marty: Are you sure it can get through the shield?
Celestia: It's a spirit. Spirits have a magic level of up to 100, which means they can bust through this shield easily while Gods like me and Luna have a magic level of 50. The RPE will get to Trixie no matter how powerful she is.
Shifu: Then we must find a way to stop Latifier and prove to Trixie that she's being tricked.
Chapter 4: The Undisputable "Managing" of Latifier and Trixie
Shielded Ponyville
Latifier: "Nicely done. Now, newsflash ponyvillians, no more will you have Celestia or any of her goons to kick around anymore, cause we're the new owners!"
Mane 5 and everyone else: "New owners?
Latifier: "That's right! Now listen here you birdbrains, if you want to remain what you all are currently, you gotta get hip with us, i know all about it, see?"
(then this song plays.)
Applejack: You'll never get away with this!
Trixie: (Laughs) I've got a reason for YOU to shut up. (Uses feathers to tickle Applejack with magic)
Latifier: Alright, Trixie, let's get to brass tacks.
Trixie: What do you mean?
Latifier: Well, it's about the RPE. I'm detecting it's presence in the entire perimeter of Ponyville. It has come for you.
Trixie: WHAT?!? But I thought you said it was a myth!
Latifier: I THOUGHT it was a myth! But after detecting it's presence in the thunderstorm, I must tell you that...it actually exists.
Trixie: (Laughs) That's okay. It won't lay a finger on me as long as I have this amulet on me.
Latifier: Yeah, about that...that amulet won't protect you from the RPE.
Trixie: Why not? I thought this amulet had a magic level of 60!
Latifier: It does. But the RPE is a spirit, and spirits have a magic level of 100. Surely, you must've known that.
Trixie: No, I haven't. Wait!...I sense lie energy! You have anything to tell me?
Latifier: "Alcourse i don't! (secretly disables truth-lie detection sense) sometimes that amulet makes you sense the weirdest things!"
Trixie: "Oh, your right. So, any idea on how we defeat the spirit?"
Latifier: "It's a work in progress. Until then, let's give this pop stand a proper makeover!"
Trixie: I got it all under control. (Uses magic to produce a shockwave that makes Ponyville in Latifier's image)
Latifier: Hmm, I'm impressed. Say, that statue over there is a little carried away, can you tune it up a little? (Points to a Statue of Latifier is of him using the toilet reading a newspaper. Trixie turns it into a normal statue of Latifier) THAT'S much better! Tomorrow, we'll be off to Canterlot, and all of Equestria will bow before me and you, Trixie!
Twilight's house.
Spike: "What are we gonna do now?"
Rainbow Dash: I don't know, Spike, but Celestia said we have only 23 hours until the RPE arrives.
Pinkie: Really? That's not so bad. We have plenty of time.
Applejack: On the other hand, while the others are busy, what'll we be doin' 'bout this 'Latifier' guy?
Rainbow Dash: Besides being bossed around by him while he takes control of Trixie with his lies?
Fluttershy: (Finds a book)... Uh, guys?
Spike: "But we gotta do something!"
Pinkie: He's right. We can't just sit around being Latifier's servants all day!
Rainbow Dash: Well, we need to be secretive about this. This 'Latifier' guy is sure to be watching for any signs of trouble.
Applejack: She's got a point there. But how're we supposed to deal with Latifier without attractin' his attention?
Fluttershy: Guys? I, uh...
Rarity: "Then it's over! I can already forsee his tastless uniformity!"
Rainbow Dash: No, Rarity! It's not over, and it never will until we stop this guy from messing up Trixie's life! We just need a plan.
Rarity: But what?
Rainbow Dash: I'm thinking, okay? Don't rush me!
Fluttershy: Guys? I have a... Uh...
Spike: (Finds book) Hey, guys, I think this book has something about royal promises we can use.
Fluttershy: "Aw fudge, this again?"
Applejack: Hmm, it does. "Royal promises are sacred and unbreakable promises used through every royal world. They are a religious tradition passed down for millenia, and are enforced by the infamous Royal Promise Enforcer. Breaking royal promises don't occur most often, but those who do suffer harsh consequences that mostly last for the rest of the promiser's life."
Rarity: Hmm, doesn't seem to have information that we can use.
Applejack: Hold on a minute, here's something we can use. It says that royal promises can be invalidated!
Rainbow Dash: Really? Gimme that! (Grabs book) "According to royalty law, if not fully satisfied, a visit to The Great Spirits must be made, and if convinced successfully, the spirits will render the royal promise null and void! THAT'S IT!
Rarity: Oh, Spikey-wikey, you did it! (Hugs Spike)
Fluttershy: (Sighs) You've got to be kidding me.
Rainbow Dash: This is the answer to our problem! 
Applejack: "But how are we gonna make the others aware?"
Rainbow Dash: "That.... I need to think on."
Fluttershy: (Sighs) I'll do it!
Rainbow Dash: What?
Fluttershy: I'll go tell the others!
Pinkie: Wow, she read our minds.
Applejack: Are you sure, Fluttershy? The tactic you used last time could fail in this situation. I'm sure Latifier could have this placed locked up tighter than a money vault with 10,000 locks.
Rainbow Dash: "Well, we need someone to get his attention and Trixie's. and i know what to do!"
fields.
Pinkie Pie is seen with the crusaders with some instraments along with the beavers holding a log.
Pinkie: "Ok Crusaders, a one, a 2, a one 2 3 4!"
(she will sing this!)
Suddenly, Latifier, Trixie, and Jerry appeared.
Latifier: "WHAT IS THAT RACKET?!"
A giant sentient tennis racket freaks out, and runs away!
Latifier: "AND WHAT'S WITH THE NOSIE?!"
Pinkie: We're just thinking of a song in your honor, Mr. Latifier, sir.
Latifier: (Laughs) You call THAT an honoring song for me? (Laughs) That sounds more like a dishonoring song to me.
Pinkie: It's a work in progress.
Latifier: Well, then, I guess that's okay.
Trixie: We're watching you, Pinky Brain! (Beavers are blocked by shield's wall, and Trixie opens it for them)
Latifier: Well, you girls just keep going on your music progress, Trixie's got some training to do. (Beavers quickly move from their sight into the bushes) Even though she's so powerful, it's for reasons you shouldn't know. Now get back to work, maggots! (Trixie, Jerry, and Latifier leave)
Fluttershy: (Comes out from beavers' log) Whew! That was a close call. (On walkie-talkie) Fluttershy calling, I'm on the other side of the shields.
Applejack: Nice work, Fluttershy. Now quick, get goin'!
Fluttershy: Right. (Runs off unnoticed)
Louger Van, 22 hours left...
Twilight: Alright, we're already clear with the plan, but how are we gonna get into the shield and use the truth spell on Latifier?
Patrick: How about we dig our way under the shield, and get inside?
Celestia: I don't think that'll work. The shield is semispherical, but digging isn't an option because as soon as we reach the surface, the shield's bottom will block us off.
Twilight: The shield has a bottom part?
Celestia: Yes.
Skipper: Then there's one last option: we'll inform the others.
Shrek: Guys? Look!
Fluttershy: (Appears tired from running)... Whew!... Uhhgh! Can I get some water?
Sparx: Sparkling or regular? Take your pick, I got more.
Twilight: Fluttershy? How did you get out of the shield?
Fluttershy: It wasn't easy, but the others used the same tactic from last time. And there's something I need to tell you.
Skipper: Then spit it out, girl!
Fluttershy: Trixie's royal promise can be nullified.
Mushu: What?
Twilight: Are you sure, Fluttershy?
Fluttershy: "There was a book that said it!"
Icky: "A talking book? Cool!"
Gilda: She meant it was written in it, you idiot.
Icky: I know, I was just joking.
Twilight: Well, if you're sure, then we'd better head for the Great Spirit Mountain and fast.
Skipper: Kowalski? Calculate how much time we have to get there.
Kowalski: (Gets out abacus) Well, Skipper, if my calculations are correct, then a trip to the Great Spirits' Mountain will be 21 hours.
Skipper: Are you serious? We've got only 22 hours left before the RPE comes, Kowalski!
Kowalski: Sorry, Skipper, numbers don't lie.
Melman: So this means we have 21 hours to get to the mountain and only 1 hour to get to the top?
Sandy: Dad gum! You ain't serious?!?
Icky: How are we supposed to get to the top within an hour?
SpongeBob:...Well, it has to be done. We're the Shell Lodge Squad, and I say that there's no such thing as impossible! We are gonna get to that mountain, talk to the Great Spirits, and save Trixie before it's too late!
Kowalski: I don't know. It's too risky! (Skipper slaps Kowalski)
Skipper: I won't have this unit being doubtful! We're going through with this!
Twilight: But who's gonna try and deal with Latifier?
thundershocks were heard!
a huge spirit in a form of a bear in native amarican clothing and indian dressings appeared!
Bear spirit: "Oh, i'm a few dozen hours early. Not bad for running time as RPE. Now, to really stick it to that bule horsey."
everyone saw it from the van.
Icky: "Just our luck RPE tends to be fastionaly early."
Skipper: "GET THIS VAN MOVING ON THE DOUBLE NOW!"
The van, before gentle placing Fluttershy out, zooms off into space!
Fluttershy: "Oh dear. Karma can be so mean sometimes."
Chapter 5: The Shocking Defeat of the RPE
A latifierised ponyville.
Latifier: "Ok, time for the annual role call! Lyra?"
Lyra: Here!
Latifier: Pinkie Pie?
Pinkie: Here!
Latifier: Rainbow Girl?
Rainbow Dash: Here!
Latifier: Applehead?
Applejack: Here! And it's 'Applejack'.
Latifier: Yeah, and who wants to be named after an alcoholic beverage? So shaddap! (Thunderclap) Rarity?
Rarity: Here!
Latifier: Baby Dragon?
Spike: Here!
Latifier: Fluttershy?...Fluttershy?...HEY, TREEHUGGER! GET YOUR HORSEASS OUT HERE!...Hello?...
Jerry: "Maybe she had to use a bathroom break?"
Trixie: No. I'm not detecting her anywhere inside the shield. SHE'S ESCAPED!
Latifier: (Thunderclap) Someone's chickening away for help, huh? Not on my watch!
Trixie: (Teleports Fluttershy back into the shield)
Fluttershy: (Falls on her head, and gets dizzy)...(Gasps as she sees everyone staring at her)...Uh...(Chuckles)...What's up, everybody?
Latifier: Alright, have this little snooping mule imprisoned and punished REALLY harshly! (Thunderclap)
Trixie: As you wish, Latifier. (Fluttershy tries running away, but Trixie levitates her, and pushes her into trash cans)
Fluttershy: Ow! (Trixie levitates her into walls) OW! OW! OUCH! (Thunderclap)
Latifier: (Notices thunderstorn getting worse) Uh-oh!
Trixie: (Cackles until a large hand grabs her from the clouds, and drags her up) AHHH?! LATIFIFER?! WHAT'S GOING ON?! (SCREAMS AS THE HAND AND HER VANISH INTO THE SKY)
Latifier: TRIXIE!!! Damn! Curse the spirit for being so early!
The RPE Realm in the clouds
Trixie: (Lands on the clouds)...Where am I?
RPE: (Appears as a huge scary tiki head) TRIXIE LULAMOON!
Trixie: AAAAARRRRRRGGGGGHHHH!!!!! THE ROYAL PROMISE ENFORCER!!!!
RPE: YOU ARE UNDER SPIRITUAL ARREST FOR VIOLATION OF YOUR ROYAL PROMISE, AND YOUR ACTIONS WILL NOT BE TOLERATED! BY ORDERS OF THE GREAT SPIRITS, YOU MUST BE PUNISHED HARSHLY!
Trixie: WHAT'RE YOU GONNA DO TO ME?!?!
RPE: FROM THIS DAY FORTH, YOU WILL LOSE ALL OF YOUR MAGIC ABILITIES, YOU WILL FORGET YOU WERE EVER A MEMBER OF THE SHELL LODGE SQUAD, AND YOU WILL BE HATED AND LAUGHED AT...FOREVER!!!
suddenly, the tiki head falls down, reveling the real RPE, the indian attired bear.
the real RPE: "Ah nuts! this stupid thing always falls down!"
Trixie: "What?! All this time, the RPE is just an native amarican bear?!"
RPE: "Hey, don't get me wrong! i'm still a spirit! just not, tikiised!"
Trixie: "First my friend Gilda lied to me about royal promises, then Latifier faked me out about you, now, EVEN YOU lied to me about yourself! Your nothing but a sham!"
RPE: "Oh, we'll see who's the sham when i curse you for good! How's about this, if you could actselly beat me in a fight, i won't place a curse on you, AND, i won't ever pick on you again should you be a repeat offender."
Trixie: "Ok then.... Bring it!"
Trixie zapped RPE with surprising power!
RPE: "OW! THAT ACTSELLY HURT!"
Trixie: "Somehow, whenever i been lied too, i become stronger, this abulet is making me stronger, even more then a great spirit!"
RPE: "Aw nuts! Usually, alot of peaple i dealt with don't even come close!"
Trixie: "I am gonna do the united universe a great, long denied justice against your tyrannty and con-man doings, spirit!"
Trixie begins to zap RPE!
RPE gets zapped until he forceably vanished!
RPE's voice: "FINE! YOU WIN! I WON'T PICK ON YOU ANYMORE! IN FACT, FROM THIS DAY FORWORD, I WON'T PICK ON ANYONE WHO BREAKS A ROYAL PROMISE AGAIN, THEY COULD BREAK IT ALL THEY WANT FOR I CARE!"
Trixie: "I did it.... I beaten a spirit.... That has to be greater then a Ursa Major.... Right?"
Trixie was teliported by the magic.
Ponyville.
Trixie reappeared.
Latifier: "Hey, your not, cursed are you?"
Trixie: No. But... Now I feel like... I made a mistake.
Latifier: Really? But aren't you glad that you beat the RPE?
Trixie: Yes, but... But I feel bad for him. Without him... What'll happen to his famous tradition? What about everyone who ever worshipped him? Maybe... Maybe what I did was wrong. (Takes off amulet, and the shield powers down)
Latifier: What?
Trixie: I now see what a monster I have become. All this madness, all this suffering... And it's all MY fault. For all I know... What you said was a lie.
Latifier: Uh... Why've you taken off your amulet?
Trixie: Because you lied to me, Latifier! You almost cost me my life! Twilight not forgiving me, royal promises being a myth, I SHOULD'VE KNOWN! YOU LIED TO ME!
Latifier: "Kid, i was doing you a faver! And now, we did the whole Universe a favor! That RPE was tyranticly abusing the mortals with un-nessersary and cruel punishments?! And had you lost, you would've suffered the same fate as many others."
Trixie: "Trixie can't say she, likes the idea on how RPE does things, but, as cruel and evil those punishments may had seem, it was a nessersary evil, for those harsh punishments have brought a peace. It may had been a cruel away to make peace among those in the rules of royal promises, but the idea is that not everything has to be fair and in the sytiles of whist-slapping! Cause some are too arigantly stubbern and malcious to be taken lightly.... We mortals may never understand the way the spirits do things, but because of how peaceful our lives are because of them, we should've at least appresiated why they had to."
Jerry is surpirsed and intriged by Trixie's words.
Latifier: "Ok, since your not gonna be willingly reasonable, we'll do this, THE HARD WAY!"
Latifier cursed the ambulet into being strapped on to Trixie forever!
Latifier: "I saved ya from wussing out on me! I didn't intentionally lied to you! In fact, you freed the united universe from being enslaved by that dishonest bear spirit! He even lied about being some kind of, tiki overlord! He was instead, a bear in an indian costume!"
Trixie: "Your right! That bear did lied to me! Twilight lied to me! Gilda lied to me! the lougers lied to me! What was i thinking? Your my true friend!"
Latifier: "Now that's more like it. Now, as we were, let's resume role-call everyone!"
Rainbow Dash: You MONSTER!
Latifier: "Oh, a showing act of Defience eh? Just for that! Trixie, send their butts to the brig?!"
Applejack:...... We're dead!
RPE Realm
RPE: Who cares about this stupid job, anyway? (Packs up briefcase) It's just a stupid-ass tradition, anyway! Besides, old habits die hard, as they say! (Notices commotion from below) What the?- (Sees everything) OH NO, WE'RE IN TROUBLE! OH, BIG TROUBLE! (Zooms off to Great Spirit realm to warn the Great Spirits)
Spirit Mountain.
Icky: "Oh man, we finally made it! Thank goodness the spirits have a strict no evil policy, otherwise, this would've been, alot diffitcult!"
Celestia: "I hope our travels were for not."
Twilight: So this is the spirit mountain. I never been up here before.
Spyro: Well, I'm glad you said that Twilight, because this is where Kairi reunited with Shen after discovering her origins.
Po: And Spyro, Kairi and and yours truely defeated Shadow Fagin after she cured Denahi from his corruption.
suddenly, spiritual lights began to form.
Po: "I think they were expecting us."
Luna: "No surprise here, the spirits tend to be all-knowing."
Icky: "So, how do we get their attention?"
Celestia: Allow us. (Celestia and Luna get the Spirits' attention by lighting up the sky, then the Great Spirits swirl around the Shell Lodge with animals and colors)
Icky: Uhgh, what's with this freaky light show?
Celestia: Thet say that they've been expecting us, and that they are in need of our assistance.
Gilda: It must be about Trixie. Maybe we're too late.
Celestia: No, Trixie's okay, it's just...it's an emergency.
Skipper: EMERGENCY?!?
Private: Oh, no, Skipper. I told you I wasn't using my hypercute--
Skipper: That's not what I meant, Private!
Celestia: Just quiet down, please. I'm trying to listen...Uh-huh...Latifier...
Sandy: Has Trixie had a change of heart?
Celestia: Hold on...Yes, she has. But there's something else...Uh-huh...yeah...GREAT GATZBY!
Lord Shen: What is it, your highness?
Celestia; Trixie's been turned into Latifier's slave!
Skipper: WHAT?!?
SpongeBob: Slave? What do you mean?
Celestia: It appears Trixie has managed to beat the RPE in battle, and succeeded, and because the RPE quit, Trixie realized her actions were wrong, and stopped serving Latifier. But Latifier would'nt give up his plans for her so easily, so he strapped the amulet tightly on Trixie, and now she's doing Latifier's bidding. They're holding everyone in Ponyville hostage, and is going after Canterlot at sunrise!
Gilda: That MONSTER!!!
SpongeBob: We gotta save her!
In space.
Twilight was in a depressed state.
Icky: "Hey, what's up with you?"
Twilight: Oh, it's nothing. It's just...I'm getting the feeling that this was all my fault. I mean, if it wasn't for me bringing that amulet to your Temple, then none of this would've happened.
SpongeBob: Twilight, this was never your fault. The only one to blame here is Latifier. He's the one who started this all. If it wasn't for him, Trixie wouldn't wind up in this mess, and all this bad stuff would never have happened.
Icky: So why are you just sitting here blaming yourself? You and your friends learned dozens of lessons about friendship for crying out loud! We're heroes, and a real hero would NEVER feel sorry for his/herself...unless necessary.
Twilight: "But how am i gonna beat Trixie this time? Tricking her into taking off the abulet willingly will be impossable now she's been cursed into wearing it for good!"
Merlin: "Don't worry, those kind of curses don't tend to be very strong. If we would be able to get Trixie alone, and away from Latifier, we might be able to disspell the curse. We just need someone to distract Latifier."
Icky: "Oh great, who would be stupid enough to tango with a out for bloodlust vengence las vegas magdition?"
Skipper: (Slaps Icky) We would! That's who! We've beaten Facilier like a hundred times, and Latifier is no different, even though he's not a voodoo witch doctor.
Celestia: Well, you're right, but only one last question remains: How do we get through the Level 55 shield?
Private: "Break it with a magic sword with a level 56 or higher?"
Celestia: "That helps actselly, but do we know swords like that?"
Kolwalski: "What about the Sword excaliber?"
Skipper: "Depends, Disney or Warner Bros?"
Kolwalski: "Warner Bros."
Skipper: "I think so, that sword has got to have a higher level then 55 because of it's involvement with uniting the universes!"
Private: "But isn't it needed to ensure peace in Camelot?"
Skipper: "Darn! forgot! and the Disney one has a simular purpose!"
Icky: "Well, I once looked up that, in the planet warface, there is a sword who's enchantment power level is 90, and is somewhere in the tombs of doom ruled by King Dloom. Problem is, Warface is uncharted."
Skipper: "Latifier would congure all of Equestia, and maybe begin planning to congure the rest of the united universes by then!"
Icky: "But there's also rumors that it may be somewhere in the Dreamworks universe, though there's still a debate on what system."
Skipper: "We'll take what we can get! anything else?"
Icky: "Well, if you can find and/or capture the wondering Space Monk, who is rumored to be from Warface, he might reveal it's location."
Skipper: But where's the Space Monk? Space is just...nothing but space.
Icky: Well, they say the Space Monk rules Dreamworks' undiscovered Neutra System. If the Space Monk is there, then that may also mean that Warface is there, too.
Celestia: Then we must hurry. The ponies of Equestria are in danger!
Skipper: Initiate warp drive! (Shell Lodge van enters hyperspeed)
Chapter 6: Rematch
Ponyville.
Latifier: "Ah, this is the life, isn't it Jerry?"
Jerry: "Boss, i been thinking. Don't ya think you went abit too far with that unicorn girl?"
Latifier: "I wasn't gonna lose my enforcer that easy, Jerry. Look, do yourself a solid and buy yourself a carrot or somethng. Now that i'm the big man on campus, i don't need ya anymore!"
Jerry: "(GASP)!"
Latifier: "What? The heck do i need a rabbit for when i'm top dog?"
Jerry runs away crying!
Latifier: "All well. That bunny was dead weight to me anyways. now, to relax on my lounge chear. Oh ladies, i would like another foot rub... and be sure to rub out my blisters this time!"
The Spa ponies groan in disgust of Latifier's blisters.
Jerry: (Crying) Who does that bastard think he is? I made him popular for my adorability for God's sake! (Cries, and gets angry) You know what, I'm putting an end to this right now! (Walks into Trixie's room angrily) Hey, dipshit! Get off that couch and come over here!
Trixie: Jerry! How DARE you use that tone of voice with The Great and Powerful Tri--(Jerry grabs her neck tightly) AAAHHHHCCKKK!!
Jerry: (Uses magic incantation to undo Latifier's curse, and rips the amulet clean off of Trixie's neck, disabling the shield)
Latifier: What the--?!?
Trixie: Uhhh...Jerry? What're you doing...
Jerry: Listen to me VERY closely, Trixie! Get out of Ponyville as fast as you can so Latifier won't be able to find you! I'll try and contact your Lodger friends so they can take care of Latifier.
Trixie: But why are you--
Jerry: Just GO! NOW!
Trixie: Okay, okay! Dear Celestia! (Teleports away)
Jerry: (Pants angrily) Oh my, gosh, I'm as crazy as my mother!...I love it!
An unsheilded Ponyville.
Latifier: "MY SHILED! Ok, don't panic, no one has yet to realise that my sheild is down and nothing is gonna stop them from running off! you still have them under your contro--(Everypony makes a run for it) Oh, crap! (Runs into Trixie's room) Trixie, what's going o--(Notices Trixie gone and the amulet off) Oh, double crap! But how was she able to disable my curse?...JERRY!!!!!"
Twilight's House
Jerry: (On computer) Okay, this must be the device that Twilight uses to contact the Shell Lodge. (Turns on device, but a window of Twilight appears and goes 'Uh-uh-uh, what's the password?') DAMN! Requires a password... Hmm... (Uses magic powers to hack into the mainframe) Well, that was easy. Now, how do I contact the Lodge?... (Types, and the computer searches for the Lodge's location)... C'mon, we don't have much time... (Computer: Shell Lodge located. To call the Lodge, press 1. To send them an email-) (Jerry presses 1)... Alright, here we go...
Space
Celestia: (Communications Device rings) What was that?
Skipper: That's the Communications Device. Someone's calling. Kowalski, take it!
Kowalski: On it, Skipper! (Jumps onto computer chair, and presses a button) Hello?
Jerry: Is this the Shell Lodge Squad?
Kowalski: Yes, you're speaking to Kowalski. What is the state of your emergency?
Jerry: It's about your friend, Trixie!
Kowalski: Trixie!
Twilight: He's calling from my computer! How did he know my password?
Jerry: You guys have to come to Equestria NOW! Trixie needs you! I'm Jerry the Rabbit. I am Latifier's former pet, and I have managed to get the amulet off of Trixie, and evacuate her out of Ponyville.
Kowalski: Wait a minute, if you're Latifier's rabbit, then why are you on the good side?
Jerry: Because Latifier abandoned me, and now I'm helping you out. Now stop asking stupid questions, and get your Lodger butts to Equestria immediat--
Latifier: (On transmission) JERRY! There you are!
Jerry: Latifier! I...uh...was just ordering pizza for the both of us.
Latifier: Nice try, buster! I know you did this! Where's Trixie?
Jerry: I don't know. HEY, LET GO OF ME! GET YOUR DIRTY HANDS OFF ME--(Transmission is lost)
Icky: "What luck the traditional big boss betrays the sidekick now the sidekick gets even thing ends up making things easy for us!"
Celestia: "But Trixie needs help! Latifier might brainwash the rabbit into reveling Trixie's location!"
Skipper: "Then let's get going!"
Iago (holding mysical looking sword): "So what are we gonna do with this?"
Celestia: "I think Latifier may try to get Trixie under control again, hold on to that in case he tries to send out magic created monsters."
Icky: "Magic created monsters?"
Celestia: "Latifier looks like the sort to have enforcers to control the populus."
Ponyville.
Magic created monsters line up the pony populus under control.
Two of the creatures bring in Trixie.
Latifier has the ambulet again.
Latifier: "Rabbits, what are you gonna do?"
The creatures bring Trixie to Latifier.
Trixie: LET GO OF ME, YOU GOOD-FOR-NOTHING FREAK-SHOWS! (Latifier grabs Trixie's mouth)
Latifier: So you thought you would get away with it, didn't you? (Laughs) Not this time, old timer! Your precious friends may be on their way, but NOBODY is standing in my way! Monsters, secure the perimeter! And keep an eye out for the Shell Lodge! (Monsters head out to watch for the Lodge)
Trixie: Get that wretched piece of junk away from me! HELP! SOMEBODY HELP!
Latifier: Like it or not, Trixie, you're gonna make a good sidekick when I'm done with this place! (Prepares to put the amulet back onto Trixie, but something strikes him in the back) OOF! OW! What the hell?!? (Gasps, and sees Rainbow Dash, Applejack, Pinkie Pie, Fluttershy, Rarity, the Crusaders and The Apple Family in front of him) But-but, how did you escape your cells?
Jerry: HAH! You think I wasn't that clever, Latifier? (Shows him the key to the cells)
Latifier: WHY YOU SNIVELING LITTLE RAT!
Rainbow Dash: GET HIM! (Everypony tries going after Latifier, but Latifier teleports to the top of a tower)
Latifier: MONSTERS! (Monsters surround the ponies)
Fluttershy:... Meep.
Latifier: Looks like we're gonna have a good ol' fashioned stand-off, eh, pony scum?
Applejack: What'll we do now, girls?
Rainbow Dash: Don't worry, I got this one! (Zooms around the monsters, but one of them manages to smash Rainbow Dash in his hands, and Rainbow Dash is knocked to the ground) OW! My leg!
Rarity: Rainbow Dash! Are you okay?
Rainbow Dash: No...My leg is...broken! Ow!
Latifier: Monsters, DESTROY THEM! (Horn honks 'La Cucaracha', and the Lodgers' van appears) No! Not them again!
Icky: (Lodgers, Celestia, Luna, and Twilight come out from van) Package delivery! And the package is packing a punch so hard, your kids will inherit the bruises!
A magic created monster throws a boulder at the van!
Cynder in her avatar form blasts at the magic monster then sends the boulder that was meant for the van at the tower where Latifier is located.
Latifier telaported out of the way before the boulder smashed into the building!
Latififer reappears at the biggest statue of himself in Ponyville!
Latifier: "I'll get you all for that!"
a flying magic created monster charges at the van! 
Suddenly, the Flying magic monster is hit by some familier firey chakrams.
Latifer: What the heck?
Sandy: Ye-ha, looks like the calvery is here!
Latifier: "What?!"
Suddenly a familer friend of the louge's appear via corridor of darkness while the Dragon Guardians with Sora, Donald and Goofy mounted on Cyril and Ansem-Avatar Riku appears with the viking army with the other high council members and The Villain Leage Resistance.
Lea: Hello!
Ignitus: Cyril, Rainbow Dash has been injured. See if you can get Sora, Donald and Goofy to her aid.
Rainbow Dash: Ow! Ow! My leg! Urrggghh!
Ignitus: Volteer, you rescue Trixie. Terrador, follow me. We'll attack Latifier head-on.
Latifier: This can't be happeneing!
Applejack: (appeared on the same statue as Latifier thanks to Twilight) Oh, it's happenin'. (Kicks Latifier to the ground)
Latifier: OOF!
Volteer: (Zaps monsters holding Trixie) There, you're safe!
Trixie: Thanks, Volteer. (Runs off)
Monster: And where do you think YOU'RE going- (Volteer zaps him)
Latifier: Curse the monster's incompitence! I'll have to finish them myself! (Teleports to the roof of a house, and then puts the Alicorn Amulet on himself) YES!
Max: WHOA! INCOMING MAJOR PAIN ALERT!
Latifier: "Now, let's see what this baby can DO!"
Latifier makes it that endless magic created monsters burst out of the ground!
Latifier: "These guys should know how to do something right!"
the more stronger magic created monsters charged forth!
Latifier: "And now, the finishing touch!"
Latifier makes it that the Latifier statues, the giant one included, come to life and begin to attack!
Latifier: "THAT'S WHAT YOU GET FOR CHALLNAGING ME! I AIN'T YOUR CHEAP PARTY MAGDITION! I WAS FROM VEGAS!"
Celestia: You think you're so powerful with that Amulet? (Uses powers to make all the monsters and statues crumble to pieces)
Latifier: Big deal! I got more where that came from!
Sora: (Pushes Rainbow Dash's broken leg back into position, making it feel better)
Rainbow Dash: Ouch! (Clears throat) You're going down, Latifier! (Zooms up towards Latifier, but Latifier makes her right wing large again) Oh, no, not again! (Loses balance) WHOOOAAAAAHHHH!!!
Latifier: C'mon, man! I need a challenge here!
Insectasaurus: ROOOOOOOOOOOOOOAAAAAAAAAAAAAAAAAAAAAAARRRRRRRRRRRR!!!!
Latifier: (Screams like a girl) MOMMY! Wait a minute! (Tries using powers, but Insectasaurus squishes him flat)... Ohhhh!...
Trixie: Sometimes, I think it's convenient that we have someone like Insectasaurus around.
Latifier: (Teleports before Insectasaurus smacks him again) Well played, Lodgers! (Uses magic to shrink Insectasaurus)
Skipper: INSECTASAURUS!!!
Icky: Well, that's just cheating.
Ginormica: (Kicks Latifier like a football)
Latifier: AAAAAAAAAAAAAAAAAAAAAAAAAAAAAAAAAAAAAAAAAAHHHHHHHHHHHHHH!!!--(Smacks into a wall, and slips down to the ground) Ouch! (Dizzy)
Twilight: (Levitates amulet off of Latifier, and gives it to Celestia)
Celestia: Thank you, Twilight.
Latifier: Uhhggh... Wha-huh? Where's the- (Sees Celestia with it) Aw fudge.
Chapter 7: Latifier Gets The Boot
Celestia: "It's over, Latifier. This amulet is going back into the basement, and you will get your commuppence."
Latifier: "Aw come on! (Slowly tries to make a run for it) Can't you guys take a joke?"
Marty: Hah! You call manipulating Trixie into helping you rule Equestria a joke? Well it was so funny I forgot to laugh?!
Latifier: Yeah, I was just kidding. I just wanted a good laugh! Surely you guys deserve a good laugh, right?
Luna: Trying to rule Equestria is NO laughing matter, Latifier. And excuses are not gonna get you any further.
Latifier: Uh... (Gulps, then teleports away, only to have Celestia teleport him back) FUCK!... Uh... Uh...
Jerry: You've been beaten, Latifier. Next time, think twice before abandoning an ally that's actually inside your protective nest.
Latifier: C'mon, Jerry, I was just messing with you.
Jerry: Then why didn't you tell me IN THE FIRST PLACE?!?
Celestia: Enough excuses, Latifier. You're in a BIG load of trouble.
Latifier: "Gees, your a tough crowd! Well, you been a great audience and uh, GOOD NIGHT!" (Latifier makes a run for it, but Celestia teleports him back) DOUBLE FUCK!
Trixie: You're not going anywhere, Latifier!
Po: The only place you'll be going is Prison 42.
Latifier: NO! NOT PRISON 42! ANYTHING BUT PRISON 42! (Runs away, but Celestia teleports him back, but Latifier continues to run away, and Celestia does the same thing 6 times until Latifier gets tired) Oh, to hell with it, you win!
Icky: "Give up too easy much?"
Iago: "And minus one villain, and two objects of power!"
Icky: "2?"
Iago: "Well, the abulet, and the sword we got! We may not be able to use it, but at least we avoided an eventual episode where theres a villain that's gonna try to get this sword!"
Icky: "Oh, I get ya."
Hours later.
GF cops are seen eschorting Latifier to their space police van.
Jerry: "Well, there goes my house. I lived in that hat of his, now I don't have a place to stay."
Fluttershy: "Well, um, you could always moved in with me."
Jerry: "Me?! Well, I don't know what to say execpt, what room so I stay?"
Icky: "Your awfully quick to welcome a former lacky of a villain, Flutters."
Fluttershy: "He's still a bunny, a bunny that didn't know any better."
Icky: "Whatever flouts your boat."
Trixie sighed.
Twilight: "Trixie? Are you ok?"
Trixie: "Trixie feels awful for causing the RPE to quit. Trixie ruined royal promises for all."
Twilight: "Don't worry Trixie, the RPE holds no hard feelings. We made the promise invalded, so it doesn't count, and RPE desided that he may had over-reacted, and desided to resume his duties.... But still, you defeating a spirit, RPE no less? No one, good OR evil has been able to beat him. You certainly will get a name for your self in the universe."
Trixie: "I would?"
Twilight: "Why, you'll be recinised to be just as powerful as any spirit for it. Your gonna be QUITE the talk of any world."
Trixie: "(Smiles), YES! FINALLY, UNIVERSEAL ACKNOWLEDGEMEANT?!"
Icky: "You tecnecly already have that with us."
Trixie: "But I have MY OWN individualised universeal acknowledgement!"
Spongebob: "Well, back to the temple with us- OH MY GOSH! I JUST REMEMBERED SOMETHING IMPOURENT WITH KAIRI!"
Icky: "Isn't she at that "Desteny Island" world with Riku?"
Shenzi: "If so, let's not keep them waiting!"
Epilogue
leage fortress.
Hades: "Wow, did Facilier's half bro sucked hard! Boy, what a loser!"
Jafar: "Quite a posion over-conidence can be. I wonder what would've happened if he kept the rabbit around longer."
Ursula: "Oh well, one less indepentent twat to worry about, (Laughs)! He never was a fan of us for having Facilier around."
Captain Hook: "And man was he hard to look at! Shield your eyes, must all these inpendent villains be all bad for the eyes?"
Oggie Boogie: "Your no prize yourself!"
Oggie Boogie and Audrey 2 laughed!
Captain Hook: "SHUT UP!"
Maleficent: "ENOUGH!"
Chrysalis: "Never had I heard such nonsense! Trolls have more interesting coversations!"
Maleficent: "What became of my nefpew's half realitive is unfortunate.... But let them enjoy their small victory. Tomorrow, on the day of their, beloved anniversery, Lord Cobra has quite a surprise for them. This time, it'll be the leage who will shine as victors."
Facilier: (Comes in) Bonjuor, villains. What's all this talk about?
Maleficent: It's best if you don't know.
Facilier: (Scoffs and laughs) That's okay. I already heard. My half-brother is a sore loser! He wouldn't be a good addition to the Villain League either way. And pity he made a mistake by abandoning his bunny friend. Besides, I heard Spyro and Kairi's Borther/Sister anniversary is tomorrow. Lord Cobra's already devised a good plan to use this to our advantage.
Venom: We already know.
Carnage: Besides, it's the last episode of the season. So, let's just have fun with it until then.
Chrysalis: I feel like watching that little clip of SpongeBob drunk on eggnog again.
Audrey 2: Me too, yo!
Oogie Boogie: I have a better one. Let's watch that video where SpongeBob and Sandy are making out in their sleep.
Gaspar: (Laughs) That's a classic!
Venom: But what's better than that video where we put that camera in their Temple's bathroom and saw Po take a dump. (Villains laugh out loud)
Blowhole: That's better than sleep-kissing.
Facilier: Or what about that one where we filmed all the Shell Lodgers kicked in their crotches? Though it's not as funny if it happens to the lady lougers, consider they got nothing downstairs, but still, the men lougers getting kicked, priceless
Teen Mang: Or... We could watch THIS! (Shows them a new video tape) It has ALL the Lodger's embarassing moments in it, that way we won't have to worry about putting in each tape one by one after watching them.
Gaspar: Oooh, well played, Teen Mang. Let's try it out! (Villains laugh out loud)
THE END?