Uto and Kago are Mama Gunda's sons and minions in the 2005 DTV sequel, Tarzan II.
Uto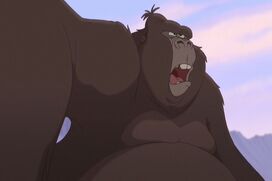 Uto is a pale brown gorilla with buck teeth. He is a stupid and dumb gorilla who likes poking on Kago. He tosses any creature he sees to see if the creature could fly or not. He was later punished by Mama Gunda, along with Kago.
Kago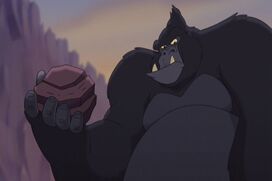 Kago is a dark blue gorilla with sharp lower jaw fangs. He is a bulky, violent gorilla who smashes rocks. He gets poked by Uto a lot, which causes him to hiccup. He was later punished by Mama Gunda, along with Uto.
Role in the series
In the Spongebob series, Uto and Kago live in the past version of Deep Jungle, and end up getting recruited by Dr. Nefarious into Team Nefarious as part of his plan to alter the course of history in the timeline of Tarzan and the United Universes. Although they are defeated in the past, they later are rerecruited by Lawrence to keep them in Team Nefarious. However, eventally, it didn't lasted for long when the UU Wildlife Federation convinsaked the duo and sent them to live in Deep Jungle again, and filed a periment restraining order on ALL of Team Nefarious.
Community content is available under
CC-BY-SA
unless otherwise noted.