Zuhrontimon's Revenge is the Halloween Special of the 2nd Season of the SpongeBob and Friends Adventures Chronicles series. Halloween has come to the UUniverses once again, and the Lodgers decide to spend their halloween checking out one of the most strict places of all: The Darkspawn Relic Museum, run by the Eqinnox Magic user and half Darkspawn enfusiest Komodo Dragon Museum Curiator named Victor Von Creepypants. They are amazed that The Black Cauldron and Cobra's Medallian aren't the only Darkspawn Relics ever known. There are also hundreds more that are either lost or found. But as they leave, a shiny crown attracts the attention of Mimi. She wears the crown, only to wind up getting posessed. Turns out, the crown she found is a Darkspawn Relic called Zuhrontimon's Crown, a demonic crown once worn by the Darkspawn Warlord Lord Zuhrontimon, who was a great at creating powders that could corrupt, and could even have psychedelic effects. The crown was his latest. It became one with him when he died, and whoever wore it would be posessed by him, and any demonic hallucinations they saw, their host's fear and confusion would cause him/her to become a crazed killer. The Lodgers realize that if they don't get the crown off of Mimi within 24 hours, she would permanently become a Darkspawn. Will they stop Zuhrontimon, and put an end to his hallucinatious grip on Mimi, or is she destin to become the latest resident of the Banished Realms?
Fan-made Transcript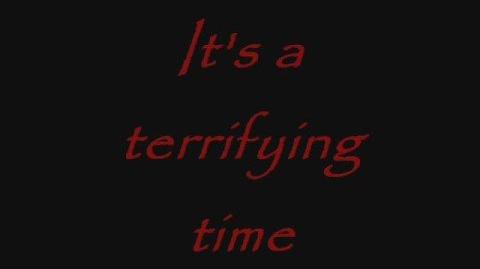 Intro (It's Terror Time Again)
Chapter 1: The Darkspawn Relic Museum
A spooky looking museum.
The Lougers are in front of it as left off from The REAL Best Night Ever.
Icky: "So, there's honestly, a museum for Darkspawn artifacts?"
Lord Shen: "I'm surprised the High Council would allow some of the most dangerious artifacts in the history of the universe to gather in one lone place! Isn't that just begging the villains to try and steal things from that place?!"
Sandy: "Well actselly, this is actselly the second most secured area in any place of the universe, and heavily protacted by the high council."
Spongebob: "But why the barnicles would anyone other then ambitious thiefs or a darkspawn worshipping villain would EVER wanna enter there?!"
Soothsayer: "The High Council has a plan in many years of motion to try and educate the mortals to never trust or follow the will of Darkspawn, so their power is to be weaken and limited."
The Ponies appeared as well.
Twilight: "Celestia told me about this sometime after the gala. She told me of a High Council Protacted museum that has the biggest collection of treacherious Darkspawn items."
Rarity: "And why are we anywhere near this dreadful place?"
Fluttershy: "M-m-m-m-m-m-m-m-m-m-m-m-my thoughts exactly!"
Icky: "Cause appearently, seeing THIS Haunted Mansion rip-off was our reward for kicking Ne-dorko's butt last episode! I don't call seeing a museum filled with nasty stuff an award."
Shifu: "Well, this museum is closed down and heavily resrticted to the public due to a series of attempted burgleries. Fortunately, the security scared them off, but they started to become persisent, the museum had to be closed down for it's own safety until the theifs are stopped."
Boss Wolf: "A bad cause of Museum thiefs huh? I hate that."
Icky: "But who would wanna rob this spook house?"
Shifu: "Villain teams would pay a handsome penny to be able to have ANY of those artifacts or relics."
Lord Shen: "Well, then what was the High Council thinking? Wouldn't it be safer to store those things in the forbidden basement?"
Soothsayer: "The High Council alchorse didn't want to risk having these relics out in the open like this, to be displayed like a trinket, but at the same time, they need a way to prevent more and more mortals to become the servents of darkness."
Squidward: "Well, I suppose the exsitence of a creepy museum beats having our universe become like the alternate universe i guess."
Lord Shen: "Well, let's get this nonsense over with so we can do Halloween at the temple."
the lougers go in, as well do the ponies but Fluttershy.
Twilight sees this.
Twilight: "Rainbow Dash, could you stay with Fluttershy? I don't think she could handle going into, this place."
Rainbow Dash: "Well, for once, I don't blame her. I am the bravest of the 6 of us, and even i'm alittle creeped out by this place. I'll take Fluttershy to get some Pizza."
Rainbow Dash zoomed over and grabbed Fluttershy away from this place.
Twilight and the remainer went in.
In the Museum.
In the Museum, all kinds of darkspawn weapons, portraits of darkspawn lords, even a life-size mannigin of a Dragozaur grunt were seen.
Icky: "And now, we entered the history of Dante's inferno."
Patrick: "I'm scared, Spongebob."
Spongebob: "This place feels so, uneasy.... Kinda different..... even the tiles are different and uneasy (shows that the tiles are baring Darkspawnic symbols.) I am not even comfertable with the bathrooms!"
The Bathroom doors even have darkspawnic symbolisum on where a Male/Female Symbol should've stayed.
Cynder: "I am sensing very uneasy things here Spyro, i don't feel comfertable being here."
???: "That is pretty much the intention of the Museum, young miss."
Suddenly, appearing from a long, dreery hallway, a sofisicatedly dressed Komodo Dragon with an eyeglass appeared, as a familier song begins to play, as the portraits began to come alive.
Icky: "Gees, it's bad enough when Cobra sang that song."
Twilight: "Who, are you?"
The Komoto: "I am Victor Von Housermiser. But People had the misfortune to refer to me as Victor Von Creepypants."
Icky: "Are you, the Curiator?"
Victor: "Yes, it's clear cause of the fact it's on my nametag."
Lord Shen: "Tell me, Mr. Victor, why ever be a museum curiator of a room filled with such, unholy items?"
Victor: "I'll be honest, it is a passion of mine. I am, a near enfussiest of anything Darkspawn and i bare a great knowledge of darkspawn culture."
Icky: "If so, then, why aren't you palsies with the leage, or any other villain team with a Darkspawn fixation?"
Victor: "Your High Council intervenced and made me into an Eqinox Magic user, and blaenced me out with uncorruptable light force, so i won't end up like the likes of these, "Villain Teams". That way, i am able to persue my passion without ended up becoming an obcessed fan, in return of preventing others from becoming more obcessive fools for power they failed to understand, or do too dangeriously well enough."
Squidward: "I bet your popular in parties."
Victor: "I suspect you won't be too surprised that cause of my own passion, people have indeed, became concern of my morallity. In fact, the mayor of my old town requested the High Council to come for me to begin with. So as a result, i am somewhat an ironic servent to the Darkspawn's own enemies."
Spyro: "And, your not happy about this?"
Victor: "Forgive me if my, often emotionless demeaner seted off any wrong ideas. I am actselly more greatful then you realised. I became very aware of the Darkspawn's habits of corrupting those into becoming their puppets, and as such, the high council wants me to share that knowledge to inspire people to avoid Darkspawn or anything to do with them like an uncureable desise."
Boss Wolf: "And i wonder why anyone would hate you...."
Victor: "It's no secret i have a controversy to myself in light of what's going on these days. It somewhat makes it duffitcult for me to persue my passion without being accused of being a possable leager or other such fanatic. Believe me that i seek no intention to have the Darkspawn out. I am fully aware what they are capable of, and my knowledge prevents more people becoming obcessive fools for power."
Icky: 'Wow, so, your a good guy?"
Victor: "Well, thanks to the Eqinox Light Magic balencing out the darkness in me, yes. I bare a power greater then Merlin himself."
Merlin: "And i can clearly sense that is NOT a lie!"
Victor: "But unfortunatly, i am still with mortal limits, like the need to sleep or eat, or when nature calls, and thus allowing crafty thiefs to try and break in! Luckly, the cowards retreat the minute my defences frighten them, but they alone may not be enough. I need a way to ensure the thiefery dies out, or i will lose my collection."
Spongebob: "Well, maybe while your, giving us a tour of the place, you could figure it out?"
Victor: "Hmm, i may as well since you all are here."
Victor began to walk as the lougers followed.
Museum Hall
Victor: If I know your adventures over the years, I know that you've come across only 2 Darkspawn artifacts. Cobra's Medallian, and The Black Cauldron. Well, I have those on display, too. I found the pieces on Madagascar 2 weeks after your hyena friend smashed it, and I bought the Black Cauldron from those witches in Morva for just 500 farlings.
Shenzi: You have both of them on display here?
Victor: Yep. And that's the Black Cauldron over there. (They see the Black Cauldron itself on display)
Bill: That thing still gives me the shivers.
Creeper: (Jumps onto the edge of the cauldron, and peeks inside) HEY, HORNED KING?!? WHO'S THE GREATEST DARKSPAWN LORD OF ALL TIME NOW, HUH?!? (Chuckles, and jumps off)
Victor: Ever since I can remember, I've grown an interest in collecting Darkspawn artifacts which have been lost for over billions or thousands of years. They range from urns, jewelry, helmets, armor, medallians, melee weapons, even household appliances.
Po: I didn't even know Gods were that intelligent at the time.
Victor: Of course they are. They're omnipotent when it comes to this kind of stuff. But since mortals like us don't know so much about the First Cartoonian War since it took place a LONG time ago, I've been studying each and every artifact I've collected.
Applejack: Odd. These are strange looking Tikis. (Demon-like Tikis are seen)
Crane: Weird, they look exactly similar to Facilier's Friends on the Other Side.
Victor: That's because they're the earliest forms of them. I'm sure you've heard that they were a form of Darkspawn, but they've actually been around for a long LONG time. Possability, even before their anitsiation to Darkspawnhood as mere tribal demons that haunted islanders or native africans.
Iago: HAH! Well at least they're dead. They don't scare us one bit--(The Tiki's eyes glow) AAAAAAAHHHH!!! (Flies off)
Victor: "It should be fair to warn you those tikis aren't dead. I just imprisoned them in speical Eqinox Magic so they are unable to reak havoc. The worse they can do now it's cheap jumpscares if you look at them for too long."
Iago: "Oh, real helpful early warning, yeah sure..... NOT?!"
Skipper: (Sees a mirror) Ooh, I haven't got the chance to see how I look--(Sees himself as a zombie in the mirror) WHA--...(Laughs) That doesn't scare me! (Suddenly, the zombie reflection grabs him on the shoulder, and Skipper shrieks like a girl and jumps onto Pinkie)
Pinkie: (Sees herself as a demonic clown in the mirror)...(Laughs)
Skipper: You...you aren't scared? You look like the freakin' clown on It in that mirror!!!
Pinkie: Oh, you silly hilly billy penguin. I can't be scared THAT easily--
Skipper: You're not gonna sing are you?
Pinkie:...I guess not. (They both turn around and walk away, not noticing their reflections in the mirror being eaten by a demonic dragon)
Rarity: (Seeing what happened in the reflection)...Good golly! I don't think I'll be able to look at myself in the mirror the same way again for awhile.
Victor: Come on, everyone. (Everyone continues going down the hallway)
Chapter 2: Mimi's Souvenir
Hours later.
Victor shows them a vault.
Victor: "And here is where the Darkspawnic jewelery resides. These gems can't afford to be seen due to their attaction and greater value. Theifs repeatedly tried to get to this vault, and in fact, last night, the vault is damaged. It's unable to lock now, i am advising everyone to leave this vault and it's items alone! It's for your own safety. Trust me on this."
Sparx: Oh, don't worry about it, lizard-face. We've never been attracted to valuables before, and we don't plan to, either.
Mr. Krabs: Yeah. I like money, but I ain't the kind of guy that is willing to sell dangerous valuables for it. Since the Flyin' Dutchman tried to send me to Davy Jones' Locker for being cheap, I've been tryin' to be less cheap, and recognize right from wrong.
Victor: That's good to hear. Now let's go. We have a lot of others to see. (Everyone leaves except Mimi)
Mimi: Jewelry?...Wow...um...Maybe just a little peek. (She gently opened the vault when the group was far enough away, and went in)...Where are they? They've gotta be--(Gasps, and was flabbergasted by the beautiful jewels. It's hard for her to believe any of them are Darkspawnic creations) Whoa! They're...so beautiful!...I can hardly believe how good Darkspawns design these things...Alright, I think I've had eno--(Gasps, seeing a lone, red-jewel encrested crown with many Darkspawn symbols on it)...Holy macaroni! (Walks up to it)...That's the most beautiful crown I've ever seen! I...(Eye pupils grow larger as she stares at the crown, but snaps out of it)...(Dubbed as Rarity) No! I shall not succumb to such gorgeousness! These are Darkspawn relics after all! I'm getting out of here before these things start to get to me. (Tries to leave, but something tempts her)
???: Why must you deny such regal splender like this, little one?
Mimi: It talks?
???: Yes. This crown is actually not of Darkspawn origin. It's made from those that were close to being Darkspawn but have used Equinox Magic to combat them. This crown is something that you'll enjoy wearing.
Mimi: Are you sure, whoever you are?
???: Absolutely. The First Cartoonian War, the real one i mean, not the second one, hasn't been known to anyone in the UUniverses for a long time, so no one was able to realize what power this crown posesses. They usually judge this by it's Darkspawn symbols. (The symbols glow red) But these symbols are actually from a culture of Equinox Magic users that have created this crown to combat the Darkspawn and what it is capable of.
Mimi:...Well...I don't know. I shouldn't take this crown without anyone's permission. It wouldn't be right.
???: Young one, this crown has helped Equinox users long ago combat the Darkspawn, and it works. It can make you more beautiful than you can imagine. Just take this crown, and ALL of your dreams will come true. (The diamond encrested in the middle of the crown forms hypnotic swirls, hypnotizing Mimi)
Mimi: ALL of my dreams?!?
???: ALL OF THEM!!!
Mimi:...Yes...I must have it...(Shakes it off) No! I cannot do this! (Dubbed as Rarity) Must...get back with the Lodgers...and...(Goes back, and grabs the crown) MINE! (Hides the crown in her backpack, replaces it with an identical crown from a fairy princess costume she bought, and runs off)...(Notices the security system was damaged as well)...Well, am I lucky or what? (Runs for the Lodgers, and the crown inside her backpack shows glowing red eyes that softly cackle menacingly)
???: All too easy. (Cackles)
Hallway
Mimi: (Catches up with the Lodgers and ponies)
Palmon: What kept you so long, Mimi?
Mimi: I was, uh, just looking at the fine-looking armor right by the jewelry vault.
Agumon: Hmm, I never knew you had an interest in that, too.
Mimi: Well, I always enjoy a man in shining armor as much as the next lady, but I guess I might have a thing about sense of style.
Girl Sora: That's really nice.
Mimi: Yeah. Let's go. (They do that)
Hours later...
It was time for the Lougers to leave, as Victor waved to them goodbye.
Icky: "Finally, out of there."
Tulio: Yeah, just looking at those bizarre Darkspawn letters made me feel like I was in the tomb of a blend of ancient Romanian and Egyptian culture, the forbidden kind, it would be so. (Shivers)
Banzai: I was a bit amazed by the architecture the Darkspawn had at it's time.
Ed: (Laughs crazily)
Shenzi: I do admit, it makes Hammurabi's Code look like cave drawings.
Marty: I'm just grateful we won't have to worry about coming across any Darkspawn for a while.
Rainbow Dash appeared with Fluttershy, eating pizza.
Rainbow Dash: Hey, guys. We're back. (Fluttershy was eating small cheese sticks) I have to admit the Pizza Hut 6 miles from here was much better than the Domino's Pizza 4 miles from here. I decided to get Fluttershy some small cheese sticks since she's not that fond of pizza as I am.
Fluttershy: I wasn't that hungry, anyway. (Takes a bite of a cheese stick)
Rainbow Dash: So how was the trip?
Po: Awesome.
Rainbow Dash: I'm sure it was.
Lord Shen: Well, let's get going. We have to prepare for the Halloween Party.
Pinkie: (Giggles) This will be so much fun!
Applejack: (Rolls her eyes, and the group leaves for the van) 
The Dragon Temple
The Lougers began to persue relaxisation time.
the ponies are here as well, cause Twilight was given permission by Celestia to spend Nightmare Night taking partaktion in Halloween.
Icky: "I am so looking forword to the Dragon Temple Halloween Party."
Pinkie: "ME TOO! I LOVE PARTIES?!"
B.O.B: Where's the candy, baby?!? I can hardly wait for this party!
Lord Shen: Gooey one, I don't think you'll be allowed to touch the candy bowl anymore. Remember what happened last year?
Cutaway
Lord Shen: WHAT THE BEIJING PROVINCE?!?!? (B.O.B has grown large after eating all thE candy in the bowl)
Dr. Cockroach: B.O.B, that candy was for the party this year!!!
B.O.B: (Hiccup) It's not my fault! They started it! (Burps)
Shenzi: Dammit, B.O.B! This is the third time you've done this.
Lord Shen: Alright, no more candy for you this year! EVER!
Present
B.O.B: Oh, right!
Lord Shen: Well, for you, here's a lollipop. (Throws him a large swirly lollipop, and B.O.B eats it in one bite)...Do you even take the time to chew?
B.O.B: I don't have any teeth. But I don't even need to, because my gelatinous matrix contains acid that can digest it in one second.... AT least that's what Dr. Cockarouch told me.
Lord Shen: (Sighs) No wonder you always want candy. You have the appetite of a fat guy!
Po: HEY!!!
Lord Shen: Sorry about that, panda.
Hallway
Mimi: (Walks down the hall looking around worriedly, heading for her room)
Palmon: Mimi? You look pretty worried. Is everything okay?
Mimi: Oh, uh, sure, Palmon.
Palmon: What's in the backpack?
Mimi: My, uh, fairy princess outfit. I figured I'd try it on right now to see how I'd look. I'll change in the bathroom, so you aren't gonna be using it are you?
Palmon: Oh, of course not. Knock yourself out.
Mimi: Thank you. (Goes inside her room)
Palmon:...Hmm...(Listens inside her room and listens to her giggling excitedly, and entering the bathroom)...Something's just not right here.
Living Room
Twilight: So while we're passing the time, let's see if we can come up with a few horror stories.
Donkey: OOH, OOH, I'VE GOT ONE!!!
Puss: Is it about that Donkey-Eating Waffle again? Cause it's not scary if you keep on telling it.
Po: Have I told you about the true story about how me, Shifu, and the Furious Five defeated the Hopping Ghosts?
Shrek: 5 times, actually.
Po: Oh.
Spyro: Ooh, I guess I have one story that Ignitus told me once. It's about a Darkspawn demon named Lord Zuhrontimon. Any of you ever heard of him?
Crane: Never heard of it.
Mantis: Nope.
Monkey: Not me.
Cynder: Yeah, I've heard of that story before. Gaul used to tell me about it just to make me suffer. It still gives me the shivers though.
Sparx: Odd, I never thought of a smoking hot babe like you to be the scared type.
Spyro: Sparx, behave.
Applejack: Well, who is he?
Cynder: Gaul said he was a feared dark magic sorceror and intelligent dark potions master who invented this VERY lethal corruption powder called Psyvill Powder. Gaul used to keep some of it in his time. He used it on me a few times before. It was painful.
SpongeBob: I'm sure we'd like to hear about it.
Fluttershy: Or, let's not.
Cynder: Okay. Here we go...
Flashback
(Cynder): Long ago, in a Romanian kingdom called Yothinshi, a king and queen brought great joy to their kingdom by providing for both the rich and the needy. They had this special psychedelic powder called Nirva Powder, which is used in many Equinox rituals, including the ones for inner peace.
(Twilight): I think I recall Black Kat talking to me about those kinds of rituals before.
(Cynder): Yeah. They say that the Nirva powder is a holy substance forged in the heavens above, and given to us by Gods. Anyone who was exposed to the stuff got peaceful hallucinations that can help them with MANY problems. If you were a magic user who was having a hard time with facing your dark past, the Nirva powder would help you balance them into Equinox magic, much like Twilight. If you someone who had a dark past and a loss of a charished life, the Nirva powder would allow you to reach inner peace and allow you to determine how you can make up for it.
(Po): Wow.
(Cynder): The King and Queen were excellent in exercising this tradition. They withheld the ceremonies every 2 months. But this Nirva powder was so popular, it inspired one person: The King and Queen's son, Lord Zuhrontimon. Who saw dark power in the Nirva powder. He saw that if mixed with certain psychedelic mushrooms, the results could be devastating and mentally painful.
(Applejack): So that's when the Psy-what'sa name comes in?
(Cynder): Yes. In fact, the stuff didn't come from Nirva powder to begin with. It actually came from a far worse substance. Zuhron discovered the resting spot of a longlost substance created by Darkspawn during the real First Cartoonian War. He, of course, didn't know what it was, but when he discovered the Darkspawn symbols on the jars, he knew that it was just thousands of years old. The stuff was called 'Vill Powder', one of the first forms of corruption powder.
(Rarity): Uh, I'm starting to feel uneasy now.
(Cynder): When he discovered how horrible this substance was, he started to get an idea. If he could mix this corruption powder with the power of his psychedelic mushrooms, the results of THAT powder would be far more devastating than anything from the Banished Realms could create. He tried it, and he created Psyvill Powder.
(Sparx): That doesn't seem scary.
(Cynder): He decided to test this new substance on someone. And not just any person, a 6-year-old girl with autism. She had just gotten in an argument with her parents about seeing someone she valued dearly.
(Sparx): Okay, now this is getting uncomfortable.
(Cynder): When Zuhron tested the substance on her, the results were horrifying. She said she saw horrible aberitions like her parents turning into horrible demons who treated her as their slave and started whipping her repeatedly. She saw a few other children just like her being treated the same way, even her best friend.
(Rarity): Uhh...(Gulps)
(Cynder): She saw horrible things. Even the ones she depended on treated her horribly. These cruel hallucinations caused her to start going into so much fear, she felt the need to strike them back. This caused her to attack her parents and get herself in the dungeon. Zuhron felt a ton of pride, but his parents realized that he was the reason why the little girl was a freak, and they banished him from the kingdom forever.
(Twilight): Alright, I'm starting to get uneasy as well.
(Cynder): Swearing revenge, Zuhron became a Darkspawn lord when Lord Cobra took over, offering Zuhron a chance to share his corruptive psychedelic powder. He accepted, and made all of Yothinshi suffer in a plague of Psyvill powder. Everyone in the kingdom was corrupted and started serving Lord Cobra. Zuhron felt more pride in his heart than ever before. But, he secretly was a pacifist, prefering not to be physical or even use magic as acts of volience thanks to his mother being very anti-volent. So in secret, he enslaved local non-darkspawn Romain underworld demons where inexchange for their lives, pretend to be among many of Zuhron's hallusionations. But he was still a famous and feared lord of darkness thanks to his careful craft in secretcy. That is until he battled the famous Tyro and the High Council. He was sealed up in the Banished Realms with the rest of the Darkspawn, thus resulting in the tainted romainians to return to normal, even the now grieving and heart-broken parents, but not before he was able to create one new Darkspawn Relic: a crown. Whoever wore this unholy thing would face demonic hallucinations and be posessed by Lord Zuhrontimon himself. His parents never recovered from their heartache, and like Shen's parents, eventally died from their own grief, resulting in a new era ruled by the headmaster of the romainian council, who in respect of what the city had lost, continued the tradition of providing both poor and rich. Zuhron was honored as what he was once was, a kind but easily misguided prince, but at the same time, he was damned of what Malefor and the Leage, and his own arrigance, turned him into.
Present
Cynder: Trapped in the Banished Realms, Zuhron was tainted by horrible vengeance, and the hellish fiery prison he was in turned him into a powerful demon lord who swore to return when his crown would eventually be found. I'd estimate Victor had already found the crown, and is keeping it in the museum. Possibly inside the jewelry vault. The crown is also believed to be guarded by demon slaves of Zuhron with the ability to turn invisable at will who will haunt anyone who takes it, scaring him/her into surrendering it to them in return for them to leave the person alone.
Rarity:...(Faints)
Sparx:...(Faints)
Fluttershy: (Shrieks and faints)
Tigress: Doesn't scare me at the least.
Pinkie: Me neither.
Twilight: (Shocked)...Uh, that was a pretty good story, Cynder.
Cynder: Well, I have heard stories worse than that, but I found the story of Zuhron was more horrifying.
Icky: "Whoa, talk about something out of Tales from the crypt, or Creepypasta Wiki."
Palmon: Guys? (Everybody notices her)
Sandy: Oh, howdy Palmon. What're you up to?
Palmon: "I noticed Mimi is acting, weird since we left the Museum. She just went straght into her room, giggling like a madwoman."
Tai: "Oh i'm sure it's nothing, propbuly just Mimi being Mimi and her "Princess" obcession ever since that episode the Gekomon appeared in during our Tv show."
Palmon: "I hope so, cause it doesn't feel good for some reason."
Chapter 3: Mimi's head troubles.
Mimi's Bedroom
Mimi: (Puts on her fairy princess outfit in a long montage that ends when she puts on the crown. She looks at herself in the mirror)...Wow. I look just like Silvarius the Equinox Fairy Princess. I gotta show the others.(Suddenly a skinny demon with ears appeared on her mirror and screamed at her)
The Demon: "AHHHHHHHHHHH! HEY, BITCH!!!" (Mimi screamed, as she began to tumble forth and ran out of the bathroom)
Living Room
Icky: (The Lodgers heard the screams) Was that Mimi?
Palmon: She's in trouble!!!
Skipper: WE GOTTA GET DOWN THERE!!! (The Lodgers head towards the room)
Back to Mimi.
Mimi: (Ran straight out of the bathroom, and into her room. She started breathing heavily, and looked at another mirror) What the heck was that?! Ok, now calm down Mimi, your just seeing things. Things that aren't really there. (Suddenly, she now sees a fat demon with a big smile in her mirror)
Mimi: (Screams) FLIRT DEMON!!! (Runs away)
Fat Demon: She call me a what now?
Mimi: (She ran into the TV room, and started panting heavily. She looked around to see if she was alone, and was relieved that she was. She sat on a couch and looked down) My goodness.... That was weird. (Scoffs) It's probably the sugar from that king-sized Reeses Cup I had a while ago. (Scoffs) I can't wait to have a laugh about this with the Lodgers! (Laughs, and then she heard two heavy breathings from each side of the couch she was sitting on. She looked up to see the skinny demon and the fat demon from before)
Skinny Demon: RETRO-KOOKAMONGA!!!
Fat Demon: CHIMICHANGAS!!!
Mimi:...THIS IS A SUGAR MELTDOWN?!? (Screamed and ran off, and the demons laughed)
Skinny Demon: "HOLY CRUD LARDO, THAT WAS BRILLIENT?!"
Lardo the Fat Demon: "Yeah! That was the best fun I've had in a millenia!"
Mimi: (She hid in a closet, and started panting heavily, and all we see is her bright white eyes in the dark. Suddenly, a huge green eye appeared) I should be safe in here.
Voice: "Do you mind turning on the lights?"
Mimi: "Oh sure." (She turned on the lights, reveiling a flouting head demon, who he started to laugh crazingly)
The Head Demon: "H

AHAHAHAHAHAHAHAHAHAHAHA! OH, WHEN AHEADHRON'S DONE WITH YOU THEY'RE GONNA HAVE TO GLUE YU BACK TOGATHER, IN HELL?!"
Mimi: (Bursted out of the closet screaming, and ran off with Aheadhron laughing)
Aheadhron: HAH! Good thing I have a good Demoman impression! (Laughs)
Mimi: (Ran outside while she was on the verge of crying) Who are those guys and why are they picking on me?! Is it me, or is it those Lodgers pulling pranks on me?!?
???: Nope. You're just fun to mess with!
???: "Yeah, really fun!"
???: "Fun fun fun fun fun!"

Mimi: What the--(Looks up) AAAAAAAAARRRRRRRGGGGGHHH!!!! (Sees flying eye creatures swarming the sky repeatedly chanting 'fun'! Mimi then ran back inside)
Eye Creatures: "COME BACK! THE EYE AYE AYE FLOCK ONLY WANT TO HAVE FUN?! PLEASE COME BACK!" (They chased Mimi into the Temple as she tried to evade them! Eventally, she ran into the kitchen, slamming the door on them)
Mimi: (Panted heavily) Okay, perhaps it's not the sugar or the Lodger's silly pranks. Maybe I'm just getting hungry, and all this stuff is my low blood sugar getting to me. I need to eat." (Opens the fridge, and a large stomach-mouthed creature pops out of the closet) AAAAAAAAARRRRRRRRRRRGGGGGGGHHHHH!!!

The Demon: "Oy! Don't disturb me when I eat, ya' twit!!!"
Mimi: (Screams, and ran away, quickly plowing through the door and the Eye Aye Ayes)
The Demon: "Oy! Come back here and apologize to Chomper, ya twit!"
Eye Aye Ayes: WAIT!!! WE WANNA HAVE FUN WITH YOU!!!
Chomper the Chest Mouth Demon: "Yeah, she needs to bloody apologize for disturbing my meal!"
Mimi: (Ran too far for the Eye Ayes or Chomper to catch up, as she hid behind another door that leads to the dining hall. She leaned on the door, and began crying) What is going on here?!? What do these strange monsters want from me?!? (Suddenly, the door began to knock)
???: "Knock Knock."
Mimi: "Who's there?" (Suddenly, a brutal red fist smashes open the door, as a brutal demon is seen) WHAT THE?!?

Red Demon: "ZUUL MOTHERFUCKER, ZUUL!!" (Mimi screamed, and ran away. She opened the other door, only to find the other demons behind it)
Mimi: AAAAAAARRRRRRRRGGGGGGGGHHHHHHHHH!!!
Lardo: Oh, goody, Bruto! You found her!!! (Mimi screamed as she ran to the other side of the room, and grabbed a chair, holding it at them)
Mimi: BACK YOU HORRIBLE MONSTERS, BACK!!!
Skinny Demon: Or what? Are you gonna lion tame us? (The demons laughed)
Lardo: HAHAHAHAHAHAHAHA! GOOD ONE, STRETCH!!
Mimi: I SAID GET AWAY, OR I AM GONNA DO NASTY STUFF!! SO NASTY, THE REST OF THE DEMONS OUT THERE WILL THINK IS A FATE WORSE THAN DEATH!!!
???: You want napphhssty pphhsstuff?!? THIPPHHSS IPPHHSS NAPPHHSSTY PPHHSSTUFF!!! (Suddenly, Mimi is splattered with red goop)
Mimi: AHHHHHHHHHH! WHAT IS THIS STUFF?! (She looks up to see a skull-like demon on the wall that barfed on her)
Mimi: AARRRGGGHH!! THAT IS DISGUSTING!!!
Lardo: OH YEAH! YOU GOT HER GOOD, HURLY!! (Mimi ran away crying torwords the cafeteria)
Mimi: LEAVE ME ALONE!! YOU'RE ALL SCARING ME!! I JUST WANNA BE LEFT ALONE!!
???: Sorry, dear child, but it's your own fault for wearing that crown!
Mimi: *sniff* What? (She gently open her watering eyes, where a snake-like humanoid demon stood before her. This is possably the leader)
Mimi: But...but isn't this crown an Equinox Relic?
Demon Leader: Equinox? HA!!! TYPICAL HUMAN FOR FALLING FOR SUCH LIES!!! Listen well to Dracoonmo, stupid child! This ain't no Equinox Relic! It's a Darkspawn relic that allows a feared Darkspawn demon to possess whoever wears it!
Mimi: Po-po-po-po-possess?!? AAAAAARRRRRRGGGGGHHHH!!!
Dracoonmo: There is still time before he awakes! Take off that blasted crown before it's too late!
Mimi: Okay, okay! (But before she can take off the crown, she is bounded by demonic chains) WHAT THE HECK?!?
Stretch: YIKES?! WE'RE TOO LATES OVER HERE?! (The demons are bounded by demonic chains one by one, and disappear in a cloud of red smoke)
Dracoonmo: Listen, you gullible child! There is still a way out of this!
Mimi: Th-there is?!?
Dracoonmo: Yes! You will be sent to a world where--(He is suddenly bounded by chains)
Mimi: NO!! WAIT!!! HELP ME!!! (She is suddenly covered in a red powder) Uhhgh! (Coughs) UHHGH! Smells horrible!!!
Dracoonmo: JUST FIND PEACE!!! FIND PEACE, AND FIGHT OFF YOUR FEARS!!! AND WHATEVER YOU DO, DO NOT LET THE DEMON CONTROL YO--(Disappears)
Mimi: What does that...even...mean...(The dramatized Mimi begins to black out)
Chapter 4: Prince Dreaming and processed girl.
A Strange White Room
Mimi: (Mimi woke up in a princess outfit similar to her costume, but is real) Uhhgh...What happened?
???: You have awaken from your coma! (Mimi sees a beautiful prince) At last, my beautiful princess awakens after years of captivity!
Mimi: Princess? Captivity?
Prince: Princess Mimi, It's me, Prince Dreaming! I saved you from mind slavery from the Demon Lord Dracoonmo and his minions! He made you believe you were friends with interuniverseal creatures.
Mimi:...What?
Dreaming: Well you've been asleep for over 3 years. You may not remember most of your life, but all those adventures you were in...were all in your subconscious.
Mimi: You mean, all my adventures with the Lodge...were a dream?
Dreaming: I am so sorry, Mimi, but your dreams are dreams. There is no Shell Lodge Squad, no Villain League, no anything your dreams had made.
Mimi: E-e-e-even Palmon?!?
Dreaming: Forgive me, my darling, but the friends you made were but a fantasy. None of them were ever real. You're just a beautiful princess who's been held captive in mind slavery for 3 years. Your memories may've been wiped out and replaced with whatever you've experienced.
Mimi: "NOOOOOOO! IT'S NOT FAIR?!"
Dreaming: "Worry not my princess, Dracoonmo has been punished, you have been freed from his spell, and now, you'll return to your loving subjects."
Mimi: "Loving..... Subjects?"
Dreaming: "Yes my sweet, where you and I will forever rule, side..... By side."
Mimi:...(Squeals in happiness) I KNEW I was a real princess!...But...I don't feel...happy.
Dreaming: Trust me, my sweet, when you regain your memories, you'll feel much better.
Mimi:...Okay...("Dracoonmo: WHATEVER YOU DO, DO NOT LET THE DEMON CONTROL YOU!!! FIND PEACE!!!")...(Runs off)
Dreaming:...(Suddenly gets evil red eyes, indicating he's the demon)
Dining Room, Reality
Tai: (The Lodgers finally find Mimi's body) MIMI! WHAT THE CRUD'S GOING ON?! WE HEARD YOU SCREAM LIKE A BITCH!!!
Lord Shen: And what is the meaning of your mess?!? (They see Mimi's body on the floor, in a different color then they known, surrounded by a strange powder. They apporached the body)
Palmon: Mimi! Are you okay?! What is this stuff any how?!
Cynder: I don't know, but I sense it's not a good substance.
Sparx: Yeah, and it smells horrible! (Mimi's body rose slowly, head still down)
Palmon: Mimi? (Suddenly, the head erected fast, reveiling a Darkpsawnic face, and made a Darkspawn roar)
Spongebob: (The Lodgers scream) "HOLY SHRIMP!!!"
?Mimi?: (In a voice similar to the demon from The Exorcist) Say hello to the return of, LORD ZUHRONTIMON!!! (Gets up slowly, and suddenly runs through the wall)
Boss Wolf: GET THAT DEMON!!! (The Lodgers follow the demon through the door)
Hallway
?Mimi?: (Runs through the hall as quickly as he can, and the Lodgers follow persuit)
Lord Shen: DON'T LET HIM GET AWAY!!!
Cynder: How odd! First I tell the story about Lord Zuhrontimon, and in a bizarre coincidence, he himself appears in our adventures!
Missing Link: Well, what a way to start a Halloween special.
Tigress: Still, we need to catch the demon! (They continue chasing the demon through the halls)
Original Living Room
Shifu: (The Lodgers arrive to find the demon gone)...Where did he go?
Lord Shen: I hope he doesn't get to Kairi! And I suppose MSM didn't want to use her as the host of the demon because of the fact that it's Kairi fetish, let alone actselly have her involved at all.
Spyro: Yeah, that pretty much sums it up. (The demon is sticking on the wall preparing to strike)
Sam: Where'd he go?
Max: I hope he's not sticking to the ceiling waiting to strike at any moment. (Suddenly the demon jumps onto Po)
Sam: Say a stupid statement, get a stupid response.
Zuhron: GET READY TO BURN IN HELL, PANDA!!!
Skipper: Okay, even I know that that's not something Mimi would say.
Girl Sora: You'd better believe it, buster!
Po: UH, CAN SOMEONE PLEASE GET THIS GUY OFF OF ME?!?
Zuhron: (Darkspawn roars until Po throws him off of him, and to the wall)
Shrek: Alright, what's this all about?!? Why are you messing with Mimi? Where is she?
Zuhron: In here, with us!
Icky: (Dubbed as Timon) GET OUT OF OUR FRIEND!!!
Zuhron: Oh, like you can stop me! I've embedded myself deep within your lady friend! I've tricked her into putting on my crown, and allowing me to possess her body!
Matt: WHAT?!? MIMI STOLE A CROWN FROM THE MUSEUM?!?
Zuhron: Yes. All it took was a little temptation, and she was willing to put this crown on, like a greedy little slut! And now, the crown is bounded to her head by my subconscious mind! I shall stay in her until she rots, and lies stinking in the earth...Oh, and until she becomes a permanent Darkspawn, and I shall have this body for all eternity!
Po: What?
Cynder: Yeah, whoever wears the crown for 24 hours will become a permanent Darkspawn! We need to get that crown!
Zuhron: (Cackles) Good luck, you foolish worms! This crown shall stay on her head until she becomes a Darkspawn!
Po: Okay, you're going down, Zuhron! (Attacks)
Shifu: NO!
Zuhron: (Takes out a jar full of powder, and blows some onto Po's face)
Po: AAHH!!! (Sees horrible hallucinations of all of his foes) NOO!!! (In reality, nobody sees what he's scared of) AARRRGGGHHH!!! (Suddenly attacks Shifu)
Shifu: WHOA!!! EASY, PANDA!!!
Po: Why should I go easy on you, Junjie?!?
Shifu: JUNJIE?!?
Cynder: It's the Psyvill Powder! It's turning him evil!
Skipper: RESTRAIN THE PANDA!!!
Monkey: I've got it! (Traps Po inside a Panda-shaped cage)
Po: LET ME GO, WU KONG!!! LET ME GO!!!
Monkey: You think I'm my evil brother?
Po: BECAUSE YOU ARE!!!
Sparx: ALRIGHT, ZUHRON, YOU STUPID DARKSPAWN SON OF A BITCH!!! HOW DO WE CURE PO?!?
Zuhron: I'll never tell you! And even if you can make me do it, you'll just fall victim to my trecherous Psyvill Powder! So go ahead, make my day!
Skipper; Kowalski? Options!
Kolwalski: "Well, just like any typical fear mongering villain with fear-based tactics and/or magic, he's strong if you believe in his powers, but it'll stop if you realise it's not true?! For exsample, Po thinks everyone is either his foes from the movies or the Legends of Awesomeness TV show or from our various louger adventures."
Icky: "So, your saying if we dressed like someone we're not, he'll SOMEHOW see who we actselly are? Well in that case, (Grabs Shifu, runs into the closet, various clothing is tossed, then Icky ran out with Shifu dressed like Jungie.) Hope this works."
Shifu: "Confound it Ick, WHY HAVE YOU TOOK OFF MY ROBES AND MADE ME DRESS LIKE JUNGIE?! AND WHERE DID YOU EVEN GET THIS OUTFIT?"
Icky: "I have a bad clothes stealing addiction. I stolen alot of the clothing of the Villain Leage, Dragon Scourge, and Team Nefarious.... Sometimes even you guys.... Well, the ones even having clothes anyway."
Viper: "Wow...... Seriously?"
Icky: "I HAVE ISSUES OK?!"
To Po, Shifu in Jungie's cloths is actselly Shifu in his normal cloths.
Monkey frees Po from the panda shaped cage.
Po: "Shifu? Oh thank goodness your here! For some reason, we're surrounded by our enemies!"
Shifu: "Po, listen to me, you were hit by the darkspawn's foul smelling powder! You are attacking your allies who in the illusion look like alot of your foes!"
Po: "Really? (Grabs Icky, who to him looks like Shadow Fagin) So this isn't Shadow Fagin?"
Shifu: "No."
Po: "(Grabs Viper, who to him is Sing Jin Sue) And this isn't Sing Jin Sue?"
Shifu: "No."
Po: "(Grabs Sir Hiss, who to him was Emperor Fang's corrupted form) And this isn't Hiss' brother turning evil again?"
Shifu: "NO! FOR GOODNESS SAKE, NONE OF THEM ARE YOUR ENEMIES, NEITHER FROM OUR CANON SHOW AN/OR MOVIES, OR THE SAF SERIES?!"
Po: "Ok ok, i'm sorry! It's just, all of you look very convincing! They would make awesome Halloween customes by the way."
Cause of Po realising the truth, the effect of the powder dies off, turning everything to normal.
Po: "Yes! Everything's NOT scary anymore! (Looks at Shifu dressed like Jungie) Nice Jungie Costume Shifu, your going out as him?"
Zuhron: "AW DAMN IT, WHAT THE HELL?!"
Icky: "Buddy, we dealt with fear user villains before. You just had to realise it's a cheap palor trick and it's a done deal. We wouldn't be very good heroes if we don't adapt to this kind of stuff."
Zuhron: Well, that doesn't matter. You still won't be able to get this crown off of your friend's head. She's currently thinking you were all a dream, and she is living in paradise. A paradise FAR greater than any of you ever showed her! I promised her I would make ALL of her dreams come true, and I kept that promise! Soon, that life will be permanent, and I will keep her body forever! (Cackles)
Palmon: She thinks we were all a dream?
Zuhron: Indeed! And she'll NEVER find out the truth, even with your help! I'm sure she'll enjoy her new life! But now that I have her body, I am finally free from the hellish prison Tyro placed me in! I shall conquor all the UUniverses, and free the Darkspawn once and for all! And no hand-be-down, comedic-ass misfits ARE GONNA MESS IT ALL UP!
Boss Wolf: "Oh yeah? And what're you gonna do about it? Cynder told us your a pasifist."
Zuhron: "Such childest words, for i- HOLY SHIT, YOU KNOW MY DARK SECRET ABOUT MY ONE TRUE FLAW?!"
Icky: "Yeah, we know you won't harm us phsyically or magicly, cause your mama raised you to be a wimp!"
Zuhron: "DANG IT?! WHY DID MOMMY DEARIST THOUGHT BY MAKING ME NON-VOLIENT WOULD MAKE ME A GOOD RULER?!"
Po: "Did you just say, "Mommy Dearist"?"
Lord Shen: "Bloody hell, is he a momma's boy too?"
Zuhron: "I am not!"
Icky: "MOMMA'S BOY, MOMMA'S BOY, MOMMA'S BOY!"
Zuhron screams!
Zuhron: "MOMMY?!"
Zuhron started to suck on his thumb!
Everyoe began to laughed!
Sir Hiss: "OH MY GOODNESS! (LAUGHS), AND I THOUGHT PRINCE JOHN HAD A THUMB SUCKING PROBLEM!"
Squidward: "Oh boy, imagine if Malefor and the other darkspawn found out, that the most feared of the darkspawn, is actselly the biggest wimp ever! (Laughs)"
Lord Shen: "I think he (laughs) wouldn't be very populer anymore, cause a pasifist darkspawn is considered a disgrace to them (laughs)! They are said to be punished with eturnal torture (laughs)!"
The hyenas laughed uncontrolabily!
Zuhron gets angry at the insults!
Zuhron: "JUST BECAUSE I AM NON-VOLIENT, DOESN'T MEAN SHE TEACHED ME NOT TO GET ANGRY?!"
The lougers stopped laughing.
Icky: "Whoops."
Zuhron caused a cloud of his powder to appear over the lougers.
Iago: "Aw, jiminiy crikets."
the powder cloud slammed at the lougers, hitting them all, even Merlin, at once!
the lougers were able to completely remove the dust out of their eyes.
Icky: "Ok, that tears it ya bleeding asshole, we're gonna-"
they were suddenly surprised by the demons that haunted Mimi!
They roared at them!
All the lougers were actselly frighten by this!
Lord Shen: "WHAT FORCE OF HELL PRODUCED SUCH CREATURES?!"
Mimi/Zuhron: "HAHAHAHAHAHAHAHA! I HOPE YOU'D ENJOYED MY ENSLAVED NON-DARKSPAWNS! I WOULDN'T HAVE BEEN ABLE TO HAVE THEM BACK THANKS TO YOUR STUPID HUMAN GIRL FRIEND! I HAVE BEEN STUCK IN MY CROWN EVER SINCE TYRO SENT MY BODY TO THE BANISHED REALMS, BUT NOW, I'LL BE ABLE TO GET MY BODY BACK, AND RESUME MY WORK FOR PSYWILL POWDER?!"
Suddenlty, the mane 6 in secret heard Zuhron.
Rainbow Dash: "Twilight, get to Creepypants! He could be our only hope!"
Twilight teleported out here!
The Mane 5 charged at Zuhron, but sadly, he tossed another collection of powder at them!
Mane 5: "AHHHH!"
They rubbed the powder out of eyes, only make blood cruddling screams apawn seeing the demons.
Zuhron: You heroes are pathetic! When I'm through with your friend, she'll be nothing!
Lord Shen: SHE'LL FIND A WAY TO BEAT YOU, YOU DEMONIC BEAST!!!
Zuhron: SURE she would. I may be a pacifist, but that doesn't mean I'm afraid to kill............. Wait a minute, being a pasifist DOES mean that! Killing counts as an act of volience, there for, i am unable to kill! Well, that's fucked. But it's a good thing i still got my powder and my demon bodyguards.
Shrek: (Chuckles) Good thing I can't be scared THAT easily. I'm the King of Halloween.
Zuhron: (Makes several demons (besides his slaves) appear around Shrek)
Shrek:...Nice try.
Zuhron: ....... Wow, that means you are NOT gonna be easy for me, Ogre. Well, you and everyone else, whether i did made you all afraid or not wil still be my slaves as long as you are under the influence of my Psyvill Powder! And good luck trying to stop it, or me. You can't outwit the powder if you're ALL affected by it. Plus, NOTHING can stop me. I fear nothing, because I am the FACE OF FEAR!!!
Iago: That is the stupidest Halloween quote I've ever heard. (Zuhron makes tons of crackers appear around him) NOO!!! HELL, NO!!! NOT CRACKERS!!! (Crackers fly into his beak, and he soon barfs) UHHGH!!!
Zuhron: (Cackles as all the Lodgers, except for a few, are shrieking in fear) WHO CAN STOP ME NOW?!? (Cackles) WHO?!?
Shrek: "There's still some of us who ain't so easily imtimidated you know!"
Zuhron: "So?"
Shrek punches Zuhron in the face hard!
Zuhron: "AHHHH! YOU PUNCHED ME IN THE FACE, YOU BRU- (SHREK DOES IT AGAIN) AHHHHH! BLOODY HELL, THAT SMARTS?! DON'T YOU REALISE IT'S ONE OF YOUR FRIENDS YOU ARE (SHREK DOES IT AGAIN) OWWWWWWW?!"
Shrek: "Oh believe me, i ain't frilled punching a wee little girl in the face, but last time i check, Mimi did NOT had a demon face!"
Zuhron: ".....Well, that broke my stragity of using this idiot brat as a human sheild if my own demon presence ruins tha- (Shrek punches him again) AHHHHHHHH! BLOODY SHIT THAT'S GETTING OLD?!"
Shrek punches Zurhon in the face repeatedly until he started to cry for mommy!
Zuhron: "(CRIES), MOM! MOM! MOMMY! MO- Oh that's right, she's dead at this point. (Shrek Punches him in the face again) OWWWW?! WHY AREN'T MY DEMON BODYGUARDS PROTACTING ME FROM THIS?!"
Dracoonmo: "Cause we hate your guts?"
The demons laughed!
Zuhron: "Oh curse you guys and your ability to express your own freewi-"
Shrek Punches Zuhron in the face again!
Zuhron: "OK THAT'S ENOUGH?! EVERYONE GETS A HEAVIER DOSEAGE?!"
The Museum
Twilight: (Teleports to the entrance of the museum) VICTOR?!? (Runs inside) MR. CREEPYPANTS?!? WHERE ARE YOU?!? I NEED YOUR--(Suddenly, she bumped into Creepypants) OOF!!!
Victor: You know, you could hurt someone with that horn, so watch where you're going!
Twilight: Sorry, sir. I need your help. It's Mimi! She's-
Victor: Let me guess, the stupid girl was tricked by Lord Zuhrontimon Zinushi into wearing his cursed crown so he can do his dispicable acts again? Yes, i had expected as such when I discovered  a duplicate of the crown where it was. (Shows her the costume's crown)
Twilight: Wait, how do you know it's Mimi?
Victor: It wasn't too requiring of Sherlock-like detective work, she clearly looked like the kind of girl who lusts for simple procession of jewels and gold. Why did you think i had those darkspawnic jewels locked up behind a vault? But there's little time to explain! I know that you are a fellow user of Equinox Magic.
Twilight: You did? How?
Victor: I sensed the Equinox energy stored in that little horn of yours. I also sensed that you have terrible experiences in your life, which is what led you into learning Equinox Magic in the first place.
Twilight: Of course. I wouldn't want to talk about it. It was just too painful. So I needed to take black magic lessons so I can combat the fears that I developed in those experiences.
Victor: Well, you see, Equinox was what originally defeated Zuhron, by Tyro himself. It is the only thing he fears. Equinox Magic, even a simple spell, is many levels stronger then his magic!
Twilight: Really?
Victor: Yes, but I sense you are still a Level 1 Equinox Caster.... Or a simple "Newbie" most would say. That won't do much to Zuhron even if your spells are stronger than his. I'll need to temporarily amplify it up for you.
Twilight: You mean an Amplification spell? Those are very strict.
Victor: Yes, but it is your only hope. In times of a crisis, sometimes laws and principals had to be ignored for the greater good. I should also tell you this: while Zuhron is controlling your friend's body, her consciousness will be locked up in a dreamscape where she will think her life was a dream, and all her lifelong dreams will come true. The more she thinks the world is real, the much easier Zuhron will be able to control her.
Twilight: I need to stop him.
Victor: Just a word of advice, once i amplafy you, you have to use an exsirsize spell that'll quickly exsirsize him out of the stupid girl. That's the easier way to do it. Another way would've involved going into the stupid one's subcongustus, but that's too risky, it's better to do this the laztman's way. Alright. Brace yourself, your body might not be able to handle the amplification spell, so you'll need to relax your mind. (Turns into a half-angel half-demon. Twilight was taken aback by Victor's change, as he touched Twilight by only two fingers, as powerful engry passes through Twilight's alicorn body)
Twilight: Wow...(Laughs) It tickles a bit. I--(Then her screams are heard outside the museum)
Chapter 5: Reviled as a demon, and then Out of Mimi's head.
Mimi's Subconscious World
Mimi: (Sitting in the castle with her dress still on)...I can't believe my adventures with the Lodge were a dream!...But I have a few questions about it.
Servant: What do you mean, Princess Mimi?
Mimi: If it was all a dream...then why was I asleep for over 3 years?
Servant:...Uh...I don't know. I guess Dracoonmo was just being a prick about it.
Mimi: I don't know about it. I may not remember much, but I do remember him saying to find peace.
Servant: He meant that his victims FEEL like they have peace whenever he uses them in mind slavery. Some of it is eternal.
Mimi: Well another question is that...he said something about...not letting a demon control me. What demon was he talking about?
Servant:...Uh...His mind boggles my mind, too, because I have no idea.
Mimi:...I can sense a lie. I'm only 15 years old, and I'm already a ruling Princess, and yet, I'm married to a handsome prince? That doesn't add up.
Servant:...Well...uh...I...uh...
Mimi: Alright, I need to have a talk with Prince Dreaming. He needs to explain to me right now who I really am! Because I think HE'S the demon that's controlling me. (Walks off)
Servant: Wait, I...you...I...(Gets glowing red eyes) Lord Zuhron?!? She's onto you!
(Zuhron): WHAT?!? HOW DID SHE FIND OUT?!?
Servant: You obviously didn't trick her THAT much. He's coming to you right now!
(Zuhron): (Sighs) Alright! I'll have to exit her body, and--
Mimi: PRINCE DREAMING?!? (Comes inside his room, and arrives to his Prince body)
(Zuhron): Uh-oh!
Mimi: Sir, wake up! I need to talk to you! (Suddenly, the body has no eyes) AARRGGGHHH!!!
(Zuhron): NO!
Mimi: OKAY, I KNEW THIS WAS ALL A HOAX!!!
(Zuhron): (Mimi's body in reality shuts down, and Zuhron transports to the Prince body) Very clever, you gullible child! But you still can't do nothing about it. Even if you ARE capable of controlling your imagination, it's all for nothing because my will on you is dominant. (Creates a subconscious cage around Mimi)
Mimi: AARRGGHH!!!
(Zuhron): I'm sorry it has to end like this, but within 24 hours, I will have your body permanently, and you'll be stuck in this world for the rest of your miserable life! (Cackles)
Mimi: THE LODGERS WILL STOP YOU!!!
(Zuhron): We shall see about that, you foolish mortal kid! (Teleports off)
Reality
Zuhron: (His consciousness is transferred back into Mimi's body, but finds out that her body has been strapped onto Mimi's bed, and he cannot move) WHAT?!?
Icky: Oh, good, you're back!
Shifu: While you were tending to Mimi, we took the time to strap her body to her bed. You won't be going anywhere for a while.
Zuhron: (Cackles) You think you can just restrain me THAT easily, you foolish mortals? I am a demon! (Tries getting free with his powers, but magic is keeping him from getting out)
Merlin: Sorry, Zuhron, but I've put a spell on those straps that will keep you from escaping that easily. You'll be stuck there until we get Mimi back!
Zuhron: "Wha-what, WAIT A MINUTE!? YOU ALL WERE UNDER THE SPELL OF MY PSYVILL! HOW DID ANY OF YOU ESCAPED?!"
Icky: "Well, remember after Shrek punched you again?"
Flashback.
Zuhron: "OK THAT'S ENOUGH?! EVERYONE GETS A HEAVIER DOSEAGE?!"
Voice: "Lord Zuhron, she's onto you!"
Zurhon: "Aw crap! Exquse me for a moment guys, i got to take this!"
Suddenly, The Mimi-Zuhron fainted as Zuhron's subconjustus vanishes.
Dracoonmo:...(Sighs) Guys, you need to restrain that body!
Donkey: IT TALKS?!?
Icky: "Donkey, we heard that guy talk before when Zuh-dumb was asking why they ain't defending his ass, alchorse he talks!"
Fluttershy: (Faints)
Pinkie: (Laughs) It can talk! (Laughs)
Rarity: Sometimes, I can't understand why she couldn't be scared by even Godzilla!
Cutaway
Godzilla: ROOOOOOOOOOOOOOOOAAAAAAAAAAAAAAAAAAAAAAAAAAARRRRRRRRRRRRRRR!!!
Pinkie:...(Laughs) That dinosaur has a big chin!
Godzilla: Hmm?
Present
Rarity: I MEAN SERIOUSLY!!!
Lord Shen: Well, at least her silly Laughter Song won't help us out of this devilish act!
Pinkie: "OH YEAH, PEACOCK BOY? WANNA BET?!"
(As predicted, this happens, and to Shen's surprise, it works incrediablity well.)
Lord Shen: (He and Po continue laughing)
Po: (Laughing) Why are we still laughing?
Lord Shen: "...... Son of a gun, THAT ACTSELLY WORKS?!"
Trixie: "Well duh, Nightmare Moon would've been the usurping queen of Equestia in a path of nighttime destruction if it didn't work the first time that song was utilised. I know cause i was from the show and i heard about it sometime ago. The internet helped in that learning of the knowledge."
Pinkie gave a smug face to Shen.
Lord Shen: "Ok, ok, fine, i'm convinced!"
Icky: "Now, let's get this loser tied up!"
Reality.
Zuhron: "Wha, what in the, for crying out, FIRST YOU GUYS WERE ABLE TO GET THE PANDA REALISE HIS ENEMIES WEREN'T REALLY YOU GUYS, THEN THE OGRE IS SOMEHOW HALFLY AMMUNED TO THE EFEFCTS, NOW YOU BEATEN MY ILLUSIONS THROUGH SONG?!"
Rarity: "We're just as surprised as you are, espiecally Shen. Oh my, i don't even want to know what Malefor himself is thinking!"
Zuhron: Well, no matter. You foolish giggle-faced sodders still won't free your little friend from my hellish grip! I've got her trapped in a imagination-proof cage where she can't use her subconscious mind to get her way out of this one! And trust me, the bonds on this crown are TOO powerful to let your wizard friend inside of it. (Mockishly) So how are you bastards gonna stop me? (Suddenly, Twilight bucks the door down, her body glowing very brightly)
Twilight: Hey, Zuhron!! Knock knock!
Zuhron: What the--?!? Who are you?
Rainbow Dash: TWILIGHT?!? WHAT THE HELL HAPPENED TO YOU?!?
Twilight: Your reign of hellish terror ends here and now, Zuhron! (Her horn glows in a blend of dark and light magic)
Merlin: No! It can't be! Is that--
Zuhron: EQUINOX MAGIC?!? BUT HOW DID YOU--?!?
Twilight: A friend of mine temporarily amped up my Equinox Level from 1 to 10, which will allow me to remove that crown and exorcise you from Mimi's body!
Zuhron: No! NO! NO!!! ANYTHING BUT THAT!!! (Still can't break free of the straps) NOOOO!!! (Twilight's horn glowed brighter, and a shine of black and white magic radiated on Zuhron) NOOOOOOOO!!! (The hellish looks and scars on Mimi's body's head disappear as Zuhron is dragged out of it)
Mimi's Subconscious
Mimi: (Still in the cage until a tremor occurs)...What the heck?!?...(Her subconscious turns glowing white, and her world gets torn apart like in one of Rumplestilskin's contracts) WHAT'S GOING ON?!? REALITY IS SHATTERING BEFORE MY EYES!!! AAAAARRRRRRRGGGGG--(Disappears)
Reality
Zuhron: (Is dragged out of Mimi's body as Mimi's body returns to it as a bright cyan light coming from her eyes, nose, and mouth) AAAAHHHHHHHHHHRRRRRRGGGGGHHHHHH!!!
Mimi: ...AAAAAAAARRRRRRRRGGGGGGHHHHH!!! (Her body is restored, and she is back to her normal self again as the crown rolls onto the floor, and crumbles, thus freeing Zuhron's demons, and making them visible)...Uhhgghh...I feel like I've just woke up from a nightmare! (Sees the Shell Lodgers, ponies, and Twilight, as her amped up Equinox magic powers down, and soon enough, her Equinox self wears off, and Twilight returns to her normal self, and sighs in relief)...Guys!...Why am I strapped to my bed?
Twilight: WHA--?!? Who are YOU guys?!?
Dracoonmo: EQUINOX, PLEASE! WE'RE SLAVES TO THIS MADMAN!"
Hurly: Yepphhss! Pphhsspare upphhss!!
Lardo: "YEAH! WE AIN'T DARKSPAWN OR ANYTHING! WE'RE JUST A GROUP OF NON-DARKSPAWNS FROM THE ROMAINIAN UNDERWORLD THAT JUST WANTED TO BE LEFT ALONE?!
Strech: "Yeah, we don't even like Darkspawn! They give demons like us who just want to be left alone a bad name! And we surely don't like Zuhron either! He's a giant asshole?! Not to mention a momma's boy!"
Twilight: "Why are you demons helping him anyway when you clearly don't like him? Don't any of you have dreams?"
Bruto slowly came forth to Twilight, at first menacingly, but then......
Bruto: "I had a dream once, but then, Zuhron took it away...."
Melman: I'm sensing another song.
Marty: Yep, here it comes.
the lougers were speechless.
Banzai: "Hey, these guys ain't so scary after all!"
Lord Shen: "And it's great to discover that they're non-darkspawn, meaning they're just normal demons."
Applejack: "Atta girl, Twilight! Now that's the most catchist hootinanny i done heard!"
Suddenly, Zuhron's spirit turns into his original body!
However, his brief lived joy of the return of his original body was lost when he realised he just lost.
Chapter 6: Zuhron gets owned by Eqinox Twilight Suprime.
Zuhron: "NOOOOOOOO! YOU STUPID LITTLE WRENCH?! I WILL KILL YOU?!"
Twilight: "Oh i know you can't. Cynder said so. Your a pasafist! You only have the reputation as the most dangerious darkspawn ever so the darkspawn won't notice your not a fighter thanks to your mother!"
Zuhron: "SILENCE! I AM TOO VOLIENT! PREPARE TO FEEL MY TRUE POWER!!! (Tries to launch another black magic blasts, one even bigger than the other, but when he launches it, it only tickles the entire Lodge, causing them to laugh out loud)
Twilight: (Laughs) A-a-a tickle spell?!? Really? (Laughs)
SpongeBob: St-stop it! (Laughs) Stop, I can't breathe! (Laughs)
Pinkie: (Laughs) I can't-stop it! Stop! You're killing me! (Laughs)
Zuhron: "CURSES! I RELIED ON THOSE STUPID DEMONS FOR THIS VERY REASON?! MOMMY RAISED ME TO BE AN UNVOLENT MAN, AND YET I WANTED TO BE EVIL AND RULE THE UNIVERSE BUT THAT REQUIRES ME TO BE VOLIENT! IT'S NOT FAIR! I HATE THE EQINOX?!"
Twilight: "Then your really not gonna like me!" (Twilight suddenly becomes Half Good Alicorn with her normal wing still present, and half bad Alicorn with dragon wing in it's place of her normal wing)
Zuhron: "AHHHHHHHHH! NOT THE EQINOX AVATAR?! BUT I THOUGHT YOUR AMPED POWERS DIED OUT BY NOW?!"
Twilight: "Actselly, i been studing this spell for awhile since Black Kat showed me this one. I didn't have much of an oppertunity to test it out. So i must thank you for being THE GUINI PIG!" (Twilight quickly pounced on Zuhron, and beat the living crud out of him as bright white bursts of light appear, causing all witnesses to flinch at the sight)
Lardo: "Owches!"
Sandy: "Ooh, that's gotta hurt?!"
Patrick: "DO IT AGAIN, I WASN'T LOOKING!"
Icky: "Yeah, teach that asshole a lesson, Twi!"
Zuhron: (Eventually, she smacked Zuhron straight down into the floor where he got up bruised and wobbling) Urrrggghhh!!! YOU HAVEN'T SEEN THE LAST OF ME, YOU INFERNAL MORTALS!!! I SHALL HAVE MY REVENGE EVENTUALLY!!! (Suddenly Yen Sid appeared)
Yen Sid: "I am afraid you will do no such thing."
Zuhron: Uh...Yen Sid! Uh...(Chuckles) What's up? How popular has that Sorceror's Apprentice short made you? (Yen Sid opened a one way trip to the Banished Realms portal that begins to suck Zuhron in) AAAAAAAHHHH!!! MOMMY!!! (Sucks his thumb) YOU'VE DEFINITELY SEEN THE LAST OF ME!!! AAAAAAAAAAAARRRRRRRRRGGGGGGGHHHHHHHHHH!!! (Gets sucked through, and the portal closes)
Icky: "Well, i think we just defeated the biggest joke of a darkspawn, ever."
Lord Shen: "And we couldn't have done it without you, Twi."
Twilight: (Turns back to normal) "Thanks. Now, it's about time we return the crown back to the Museum."
Spongebob: "Agreed."
Mimi: (Everyone looked at her)...Guys, I'm really sorry! I was about to leave the place and...well, can't you all just blame it on Zuhron? He tempted me to do it!
Spyro: Mimi, as much as we agree that it was Zuhron's fault, it wasn't COMPLETELY his fault. You let him control you by taking a peek in that vault when you weren't supposed to. That's what cannot be accepted about this incident.
Mimi: I know, but...you know I can't resist how much I like fine jewelry! It just lightens me up like a firefly's butt.
Twilight: Trust me, we know you have an obsession with jewelry, but was it really worth risking your own body to peek inside that vault, and let a demon possess you?
Mimi: I didn't know. I'm sorry.
Skipper: Still, what you did cannot go unpunished. I'm pretty sure you know what it is.
Mimi:...(Sighs) Get me the mop.
Icky: "So, who wants to bet Mimi isn't the only one about to get the worse of this senairio?"
Banished Realms.
Zuhron fell flat on his face!
Zuhron: "OW?! MY FACE!"
Zuhron got up.
Zuhron: "Oh no! I am in the Banished realms completely this time. Oh no! Oh no! I was a fool for doing this! High Council, please! I'll deannounced my darkspawn nature, please, allow me a chance to make amends to everyone! I desided i wasn't cut out being a demon, i didn't have the nerve to do so! Please!"
???: "ZUHRON?!"
Malefor and other darkspawn appeared.
Malefor: "We are not happy of what we saw from your, infavorable defeat from the misfits!"
Zuhron really started to panic!
Zuhron: "HIGH COUNCIL, I THROW MYSELF AT YOUR MERCY! I BEG OF YO-"
Darkspawn Warriors began to surround Zuhron!
Zuhron: "PLEASE HELP ME, AHHHHHHHHHHH?!"
Epilogue
Later
Creepypants holds the crown, and places back into the jewery room.
Creepypants: "Thank you Miss Twilight for returning the crown, and for my new, museum security."
Twilight: "Thank you, and i promise they'll be VERY useful."
Victor: Pleasure's all mine. Perhaps our paths will cross again sometime. If Darkspawn should ever haunt your life, or maybe even some form of black magic that's more powerful than you can imagine, I'll be waiting. See you...dot dot dot...eventually!
Twilight:...Was the dramatic voice necessary?
Victor: Well, I just like doing it. Now run along. (Twilight teleports away)
Later that night.
Some theifs broke into the Museum.
they were about to snag some darkspawn relics when-
Dracoonmo and the demons appeared and roared!
Bruto: "ZULL MOTHERFUKERS, ZUUL?!"
The theifs scream as they run away!
Mr. Creepypants appeared.
Victor: "That'll do boys, that'll do."
The temple.
Mimi: (She is seen washing dishes, and sighs) I can't believe I was a fool to fall for such jewelry! What is up with me?
Palmon: Well, even though you can't be at the Halloween Party this year, you can't really blame yourself THAT much. It was Zuhron's fault at the least, but you should've known not to look into the vault. But on the bright side, at least you gave Victor a new security system.
Mimi: "BUT NOW I CAN'T GO AS A FAIRY PRINCESS?! (CRIES)"
Palmon: (Sighs) What a drama queen!
Banished Realms.
Zuhron is seen in a medevil rack, as Darkspawn throw rotten fruit at him, mostly Tomatos (and yes, THAT is a fruit).
Malefor: "Sorry Zuhron, but that's what you get for lying to us about being a pasifist, AND failing to defeat the lougers! Consider this, your punishment eturnal!"
Zuhron: (Screams) MOMMY!!! (Sucks his thumb, and the Darkspawners continue to laugh at him)
???: "All right, You demons. You had your fun, now it's time that Zuhron is offitcally no longer a demon."
Sladaron the Nega Chesare Cat apppeared.
Malefor: "YOU?! HOW DID YOU GET HERE?! I THOUGHT DARKSPAWN WHO DIDN'T BETRAY THE DARKSPAWN BROTHER HOOD ARE ALLOWED HERE?!"
Saldaron: "Well, ordenarly, i am clearly unwelcomed here, but i am here cause of a civic duty for the High Council. You see, the divines had long plan to use Zuhron's non-volient nature against him to eventally cause his downfall. You see, in a clever plan, we willingly had the lougers involved of getting Zuhron out of his silly madness. All of the lougers but Mimi were in on this, and so were the Mane 6, so Twilight can have the chance to exsirsize her eqinox magic. It also sloves Victor's theif problems as well. Basicly, all three birds snaged by one cat. Now, kindly surrender the misguided twat, or this place will be an even worse hell then it is already."
Malefor growls.
Malefor: "FINE! JUST GET HIM OUT OF HERE?!"
Saldaron vanishes with a slowly de-demonised Zuhron.
Outside of the Dragon temple.
Saldaron appeared with a humanised Zuhron.
Zuhron: "So, it was all a plot to get me back to human? But why?"
Saldaron: "It t'was by request of your late parents, so their spirits would not suffer anymore of their son being what he is not."
Zuhron: You mean...they still care about me? After all I did to their kingdom?
Saldaron: Indeed. You finally have the chance to start over. Your Psyvill Powder is now kept by the Darkspawn, and you might wanna think about becoming an Equinox Sorceror. It will be of much use to you sometime. It might even earn your life back.
Zuhron: Gee...I don't know what to say.
Saldaron: Don't thank me. Thank the High Council. They sent me to do this favor right before they sent you to the Banished Realms.
Zuhron: Well, alright.
Saldaron: Goodbye, and good luck. (Disappears)
Zuhron:...(Looks up into the sky, and sees a cloud shaped like the Equinox symbol)...I'll find a way back someday....
Secretly, the lougers were watching as Zuhron was leaving.
Icky: "I have to admit, it's nice when even the bad guy gets the rare oppertunity to actselly get a good ending and make amends."
Spongebob: "Yep. I think he's gonna be ok. (Car screech! Blam!)"
Zuhron: "AHAHAHAHAHAHAHAHAHAHOOOOWWWW?!"
Icky: ".... Wow, Karma is still a jerk to him."
Spyro: "Come on, we better ready a bed for him."
Later.
Zuhron (in banages): "Hey uh, thanks guys, and, sorry about the demon thing."
Monkey: "Don't mention it. We know what it's like when karma jerks around with us."
Spongebob: "So, what are we gonna do with him? He's tecnecly no longer able to be the heir to the thrown cause of his bad reputation and that the Headmaster of the council long took over the kingdom."
Lord Shen: "Well, it appears the equestian reforming monistairy has new clientlle."
Tigress: "You mean, just as soon he no longer looks like a mummy."
Zuhron: "Oh ha-ha, real funny."
Icky: "And, scene."
End.
Community content is available under
CC-BY-SA
unless otherwise noted.